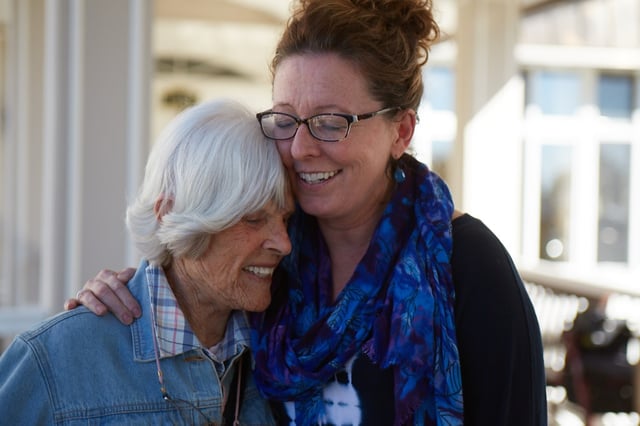 Perhaps you've heard the term, aging in place. It's a term that's being used more and more frequently. It's the concept that each of us has the right to choose where and how we want to live as we age. As health needs may change, it's important to know your living options and plan for the future. We hope you will find these ideas helpful as you explore aging in place options for yourself or a loved one.
The Home You Live In
Fundamental to aging in place is the ability to choose the home you want to live in permanently. That can mean exploring multiple options, each with its own set of considerations. It's important to weigh your options carefully so that you can plan for the long term. Here are some of the most common options to consider:
Your current home. A key question to ask here: Is your home conducive to your needs now and in the future? For example, if you live in a split level with several sets of stairs, will this still work for you 10, 20, or 30 years down the road? Even if the answer is "no," that doesn't mean you have to automatically discount this as an option. You may want to consider remodeling or adding assistive technology to your home — stairlifts, for example. Work with family members or even a remodeling expert to determine what you believe will be best for you and your health.


A new home. If you've decided a move is in order, then take time to shop around for the best location and home that fits your needs and desires. Often older adults will move closer to family members who can support and provide a stronger sense of community. When looking for new areas to call home, consider the health care that is available, the senior community resources nearby, and other features that fit your lifestyle. These may include exercise areas, entertainment options, dog parks and more.


A home in a senior community. Many decide that the best choice is to find a senior community where all their needs can be met — both now and in the future. The right community will provide everything from housing to transportation, meals, social activities, exercise programs, help with daily tasks like cleaning and shopping, health care, and even the opportunity to bring your pet. What's key is that these services can be tailored if and when your health and service needs change. You'll likely feel good knowing you have long-term security, and that your family knows you'll be in a safe, friendly, and social environment.
Finances
Of course, cost is a major consideration for any aging in place option you choose. It is usually beneficial to have conversations with financial and legal planning professionals to answer the many questions that can arise. For example, How will you pay for your long-term care? Who will manage your financial resources, care coordination, and other details if for some reason you're not able to?
Advanced planning is key to making your future the very best is can be. This may include choosing the right aging in place home or finding trusted financial and legal advisors to guide you.