The farm-to-table food movement has gained popularity over the years due to its support of local farmers and using readily available, local high-quality produce. These fresh foods are also an important part of our Food for Life™ Program.
Locally grown foods have higher nutritional value as well as better flavors. When incorporating these plant-based foods into our meals, we ensure maximum nutritional value, taste and presentation.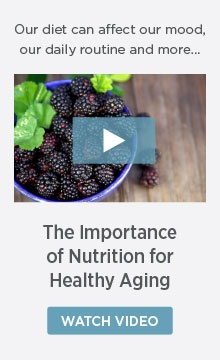 Minnesota-based executive chef, Patrick, visits Minneapolis farmers markets weekly from early summer to the first fall frost to select the best in-season products and incorporate these foods into the dining at Chandler Place. Similarly, at other Goodman Group communities throughout the United States, chefs work with their local suppliers to bring in the best local products available.
The Food for Life™ program provides nutrition for our residents to help them achieve an optimum level of overall well being which helps them live healthier, longer lives.