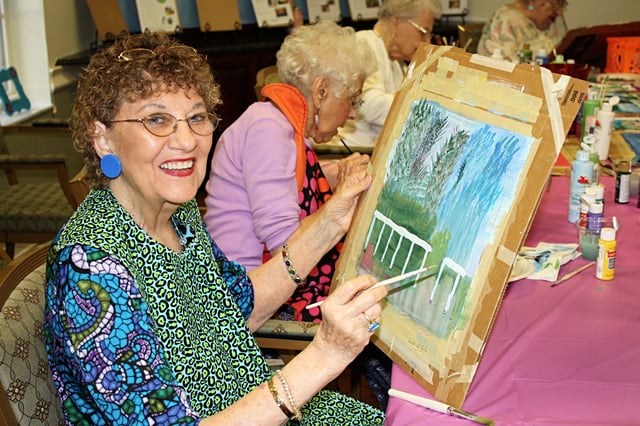 Art therapy has long been used as a therapeutic tool in many settings, including rehabilitation, educational, medical, mental health, and even forensics. More recently, it's been shown to be effective working with seniors, especially those with dementia or Alzheimer's.
What Exactly Is Art Therapy?
The American Art Therapy Association defines art therapy as "a mental health profession in which clients, facilitated by the art therapist, use art media, the creative process, and the resulting artwork to explore their feelings, reconcile emotional conflicts, foster self-awareness, manage behavior and addictions, develop social skills, improve reality orientation, reduce anxiety, and increase self-esteem."
Art therapy has been shown to be an effective treatment for a wide range of developmental, medical, educational, social, and psychological challenges. It's an important part of our Life Enrichment programming to help enhance the residents' overall wellbeing!
What Are the Benefits of Art Therapy for Seniors with Dementia?
One of the common effects of dementia is the loss of the ability to communicate effectively.
While a person with dementia may still have the same thoughts or concerns, dementia can make it increasingly difficult to communicate those thoughts and feelings to others.
However, communicating through artistic expression can recapture effective communication with family, friends, and caregivers. Using painting or drawing by-passes language and allows an individual to communicate in a different way.

Participating in art therapy can also be a very soothing activity, calming the anxieties and even fears that sometimes accompany dementia. Creating a piece of art can also create a sense of personal accomplishment and renewed life purpose. Engaging in art therapy can even lead to a new hobby.
The Art Therapy blog cites numerous benefits for seniors with dementia or Alzheimer's:
Encourages dignity, validation, and a sense of wholeness

Improves relationships and empathy

Decreases anxiety and feelings of isolation

Increases a sense of control

Encourages social connections
Is There Such a Thing as DIY Art Therapy?
Technically, art therapy is overseen by a qualified art therapist. However, that doesn't mean you can't enjoy art projects with your loved one at home or even in assisted living. Here are a few guidelines to follow to make your activities enjoyable and safe.
Choose a project that's at an adult level. Painting, collage, drawing, or needlework are all possibilities. Interestingly, a huge trend right now is adult coloring. You can find inexpensive adult coloring books and colored pencils at bookstores, pharmacies, and craft stores.

Help your loved one get started, but then let her or him continue on their own. This helps build a sense of independence and creativity.

Join right in. Participating in your own project side by side offers a chance to bond and encourages conversation.

Forget about the clock. Creating can have you both losing a sense of time, so be sure to reserve enough that you don't have to feel hurried or anxious.

Be mindful of the materials you're using. Keep caps on paints and glues, use safe scissors (with blunt ends), and keep a supply of paper towels handy in case of any spills.