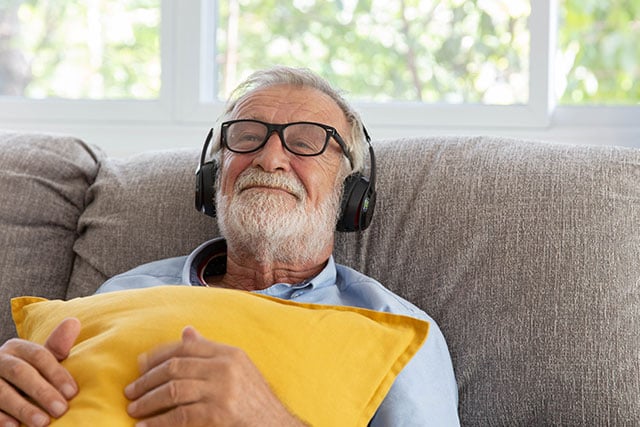 Music has the power to take us back in time and recall details we thought we had forgotten. Hearing an emotionally significant song from the past often brings back a flood of beautiful memories and lifts our spirits. In fact, a growing body of research shows that older adults who regularly listen to music on a regular basis score better on memory and reasoning tests.
The same is especially true for individuals experiencing cognitive decline. Music therapy for dementia and Alzheimer's is an exciting innovation in memory care that utilizes the power of music to help residents connect with their friends, families, and past.
"Music is vital to our memory care programs," says Katie W., national director of life enrichment for The Goodman Group.
TREASURES OF THE HEART™
Katie and musician Mary Beth McCarlson recognized that songs are the foundation of any music therapy program. Then they took it a few steps further, turning music therapy into an active engagement rather than a passive experience. They developed Treasures of the Heart™, an interactive music therapy program offered exclusively at communities managed by The Goodman Group.
At the beginning of every Treasures of the Heart™ sing-along, team members introduce residents to a theme like 'thankfulness.' "This puts them in a specific place so they're ready for that music experience," Katie explains. "Then we play songs that are very specific to that theme."
Each song is followed by a conversation that begins with a concrete question. "We might use a song like 'Don't Sit Under the Apple Tree,'" Katie explains. "We might ask, 'How many of you have ever picked apples?' and that gives all the residents the opportunity to participate." Then the discussion may turn to a more abstract conversation using thematic elements heard in the music – the desires of the sweethearts in "Don't Sit Under the Apple Tree," for example. Katie says team members might ask prompts like, "'How might he feel if she doesn't show up?' and that opens up a whole new opportunity for residents to interact."
But listening and talking make up just one part of the Treasures of the Heart curriculum. "We incorporated other senses," Katie says. "At times we incorporate props, like pictures or even apples. So they're not only singing the song, which is the auditory experience, but they're touching things, they're smelling things. All of these are enriching their reminiscing experience."
"It's about using music to enrich residents' lives," Katie says. "That's what the program is all about."