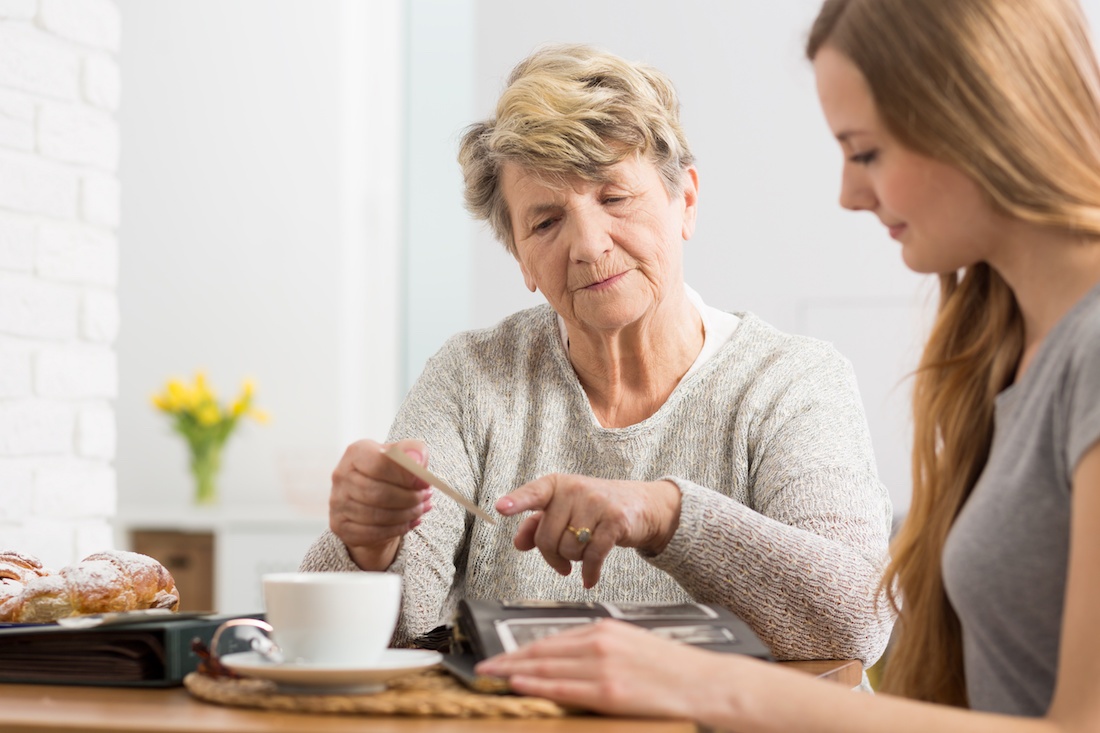 When caring for a loved one with Alzheimer's or dementia, you're likely going to face new challenges and behaviors as the disease progresses. They may start hiding items that are important to them or wandering more often. It's important to remember that their reality, while decidedly real to them, may be very different from our own. And while you may not be able to change the new behaviors, you can learn how to better cope with them to address your loved one's changing needs.
Here are a few tips for coping with some of the common behaviors you may see from your loved one with Alzheimer's or dementia.
Be Observant
Try to pay close attention to your loved one's nonverbal cues, particularly when you are noticing them wander.
According to Marthe Lawrence, executive director of Villa at Terracina Grand, a memory care community in Naples, Florida, it's common for memory care residents to wander. "What makes it wandering is when it is aimless," she says. "You're walking without a destination. You don't know what you're looking for and can't verbalize it."
Wandering usually signals that your loved one needs to go to the bathroom, is hungry, thirsty, cold, or hot. Either ask them what they need or try to read their body signals, Marthe says. Pick up on cues that your loved one needs help. If they're doing something out of the ordinary, it could mean something may be wrong. Identifying their needs may help with the frequency of wandering.
Be Empathetic
Another common behavior you may notice from your loved one with dementia is that he or she is hiding things.
"The reason they hide things is that they think others are taking them," says Marthe. "They hide something, then they forget where they hid it. When they find it again, they hide it somewhere even harder to find because they think someone is taking their stuff."
One resident was constantly hiding his wallet, Marthe recalls. He didn't have any cash or credit cards in it, but it turned out that he was a Holocaust survivor who had spent time in a concentration camp. Because of his past, his identification papers were vitally important to him.
"To him, it was important to have that physical piece of paper that says 'I am this person and this belongs to me'," she says. "If someone took them, he thought he would lose everything."
There is no way to prevent your loved one from hiding items. "The best thing to do is empathize with that person," Marthe says. "They won't believe you if you say you didn't take it."
Marthe recommends saying something like, "Oh, I am so sorry you lost that. Let me help you find it." Often, when you find the item and give it to them, they are very appreciative. Then change the conversation to something more positive, she says.
Be Patient
Hoarding is also a very common behavior that can occur when your loved one develops dementia. Like hiding items, this behavior can also stem from fear.
"They keep things because they fear they are going to need things and not have them," Marthe says. They no longer have the ability to run to the store to pick up something they may need and this becomes concerning to them. "Some residents hoard the linen napkins at dinner or boxes of tissues."
One resident, prior to living at the memory care community, went to the nearby convenience store several times a week to buy the same cans of food. "She didn't think she had gone to the store," Marthe explains. "Her cabinets were full of canned goods. It wasn't because she wanted to keep them in her house. She forgot she had them."
Marthe suggests speaking with your loved one to make sure they have everything they need. If they are hoarding tissue, buy a box and place it in a visible location to help them see that it is readily available.