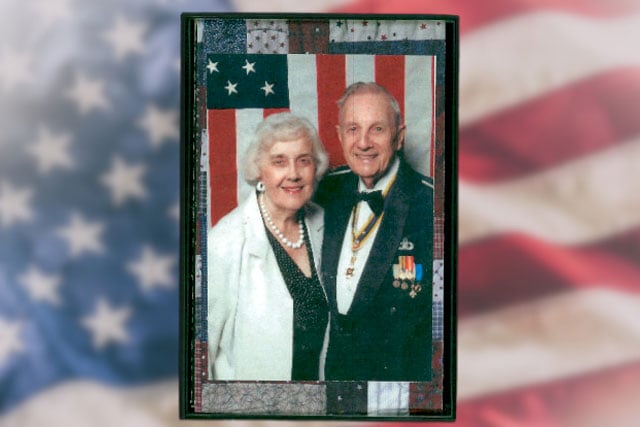 Bob Y. has been all around the world. Well, nearly all around the world.
"I never got to Europe," he recalls. Not that he didn't get the chance – just a couple of years before he retired from the Air Force in the mid-1970s, he actually turned down the opportunity to station in Germany. Personnel wanted him in Tempelhof Central Airport (TCA), an American Air Force Base in West Berlin that closed in 1994.
The post would've meant another four years abroad, and his family couldn't join him for the first six months. By that time, Bob, then an electronic warfare officer with the Air Force and now a resident at Garden Ridge at the Ridges at Peoria Senior Living campus in Peoria, AZ, managed by The Goodman Group, was ready to wrap up his military career. Today, he looks back at his 21-year run not with regret or self-accolades, but with frankness and a focus on the future.
Joining the Air Force
Whatever carried Bob through his years of military service (and across more continents than most will see in their lives) has been in him a lot longer than 21 years. Three years after graduating high school and joining the workforce at a railroad, Bob "decided to get an education" – a deceptively simple phrase for what he actually did.
Between 1950 and 1954, Bob earned his Bachelor of Science in business education and graduated on time with a full course load; met and courted Shirley, the woman who would become his wife; pledged to a fraternity; and enlisted in the Air Force reserves; all while holding his job with the railroad. "And I haven't slowed down yet," Bob says, almost seven decades years later.
Bob's lifelong desire to get airborne may have been quashed by a glut of pilots, but when he was offered the position of aircraft controller after graduation, his course was set as a full-time member of the United States Air Force.
Memories of Service
While Bob never saw combat, he remembers plenty about those couple of decades he spent in the service of the American military. He remembers 75 inches of snow in Newfoundland at Goose Bay Labrador Air Force base, delaying his return from a curling competition; he remembers receiving a Commendation Medal for his years of non-combat service; he remembers being one of the creators of the Defense Enrollment Eligibility Reporting System (DEERS), a sophisticated database of service members and veterans that's still used today; he remembers Japanese children sprinting through his rental home to see their first snow while he and Shirley were stationed in Nagoya; he remembers the people he spent those years with so long ago.
"I made a lot of friends, and I've lost some," Bob says, recalling the decades between his discharge and today for just a moment before turning his gaze toward the present. "Some I'm even friends with on Facebook."
Looking Toward the Future on Veterans Day
Bob makes it a point to mention that his service uniform still fits. Last year, he wore it on Veterans Day. But even on a day dedicated to people as dedicated as he is, Bob doesn't take credit for his accomplishments. "Veterans Day means a whole lot to me because I'm thankful for the service members out there," he says.
Donning his uniform and reflecting on his brothers- and sisters-in-arms help Bob remember the joy he felt to be part of the Air Force (not that he could ever forget). Rituals like that also remind him of the challenges which, to him, proved he was on the right path.
"I had some great commanders, and some that weren't so great," Bob says with a chuckle. His memories of being stationed apart from his family are remembered with the same sense of perseverance. "I spent a lot of time away from my family, but I knew it was my duty to do that," he says.
At his longest stretch, they spent over two and a half years apart. But like Bob does, they found a way to overcome that challenge. Shortly after their marriage, he and Shirley bought tape recorders to send messages, sometimes across thousands of miles, just to hear each other's voices again.
Bob's post-Air Force years have certainly given him perspective on the past, but they've also helped him look forward. "One thing I wanted to prove to myself after I retired was I wanted to learn how to fly," he says. Sure enough, he followed his daughter's lead and obtained (and still holds) his pilot's license in the years following his discharge.
While he's not one for the limelight, committing his memories to posterity is also something Bob is becoming increasingly comfortable with. He was interviewed for Since You Asked, an ongoing publication by the Veterans Heritage Project that commits former service members' stories to the Library of Congress, and even contributed an article to another book in the series. He's written an as-yet-unpublished memoir charting more than two decades of service, starting with the ROTC at Ball State University. Its title? 21 and Done.
Even when he's the subject of someone else's story and even when it's his time to be remembered, it's clear Bob's time with the American military has left him with an extremely personal reverence that borders on spiritual. "When I see the American flag out there waving," he says, even today, less than a month before his 92nd birthday, "it still gives me chills."