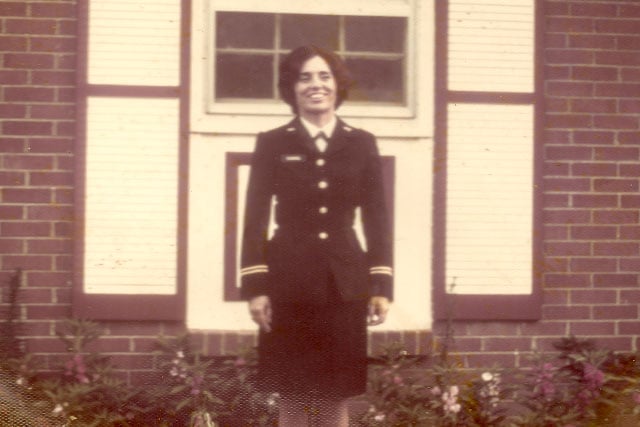 Marilyn was already a nurse working in pediatrics when she learned about a pediatric nurse practitioner course offered by the U.S. Army. The concept of a nurse practitioner was new at the time and it was exactly where Marilyn wanted to go with her career.
"I just jumped [at the chance] because it was what I was doing already, but I didn't have the credentials," Marilyn says. Getting those credentials meant that Marilyn would be able to work more directly with physicians and establish her own practice in acute minor illness in well-child care.
Enrolling in the course meant a two-year commitment to serve with the U.S. Army Nurse Corps, and that was fine with Marilyn. But then something she couldn't have predicted happened.
"So I went into the Nurse Corps to get that course and they offered me the course plus a two year obligation and that's what I intended to do," she says. "And then I stayed for 20 years!" she adds, laughing.
Marilyn, a resident at Royal Palms, a community managed by The Goodman Group in Largo, FL, speaks fondly of those 20 years when she served in a number of capacities beginning with a stint at Fort Campbell caring for the families of soldiers. She then became director of the nurse practitioner training – the very course she'd enlisted to take.
Moving Through the Ranks
When she rose to Lieutenant Colonel she was assigned the role of Chief Nursing Administrator at the Army European Medical Center in Landstuhl Germany for three years. There, Marilyn says, "I learned a great deal about the demands of military nurses." It was far different from being a clinician and Marilyn developed a program to address those demands. "I developed the concept of the nurse triage team to use as a means for when we had to be deployed to handle a terrorist action, that we had teams already formed that were used to working with each other."
When she returned to the states, Marilyn spent the last years of her military service at Eisenhower Medical Center where she was the Chief of Nursing Education and Staff Development. Of that assignment, Marilyn says, "Eisenhower is a pretty big medical center and there were a lot of demands, but there were very good opportunities to work with the staff and watch them develop into seasoned nurses and corpsmen."
Still Serving Her Country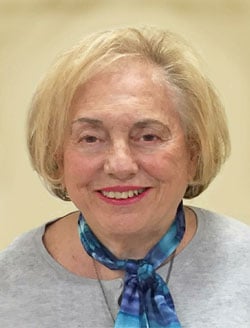 Despite retiring from active duty, Marilyn remains very active in veteran's activities. "I'm a Vice Commander of the Military Order of the World Wars. We're an organization of officers and our centerpiece is the youth leadership conference that we offer to young people in the area."
Marilyn also participates in local military activities. "This Saturday night I'm going to host a veteran's dinner for about 120 people at the Belleair Country Club. I will be the moderator for that. It's all for veterans and their families and I enjoy doing things like that."
Living at Royal Palms
Of her time at Royal Palms, Marilyn says, "I'm really blessed to be here. They really offer a lot." Like the yoga and swim aerobics classes she takes every week. And of course, there's the community. "We have a very positive environment here at Palms, we really do. I mean, it's amazing, we help each other with little things, whether it's the guys that are pulling the chairs out for us or me when someone gets a scratch on their arm, they come running to me," she says laughing, and, it seems, still practicing nursing!
Every November, we celebrate our brave and dedicated veterans, many of whom, like Marilyn, now make their home in one of The Goodman Group managed senior living communities. Because we believe that our appreciation for their service should be lived, all of our communities offer programs especially for veterans – each of which is unique to their community. It's our way of actively saying, "Thank you for your service."