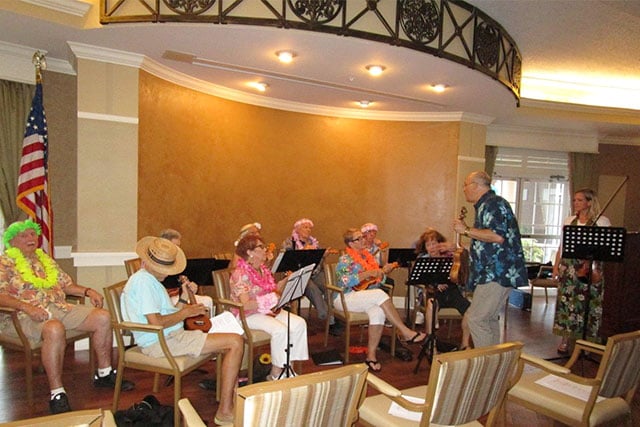 When most people think about the ukulele, they think about a humble, simple instrument. They may even think of Don Ho or Tiny Tim. Yet for the residents of one senior living community, the ukulele represents something different, and far more important. At Terracina Grand, a senior living community in Naples, Florida, the ukulele symbolizes the pride of learning something new, and the joy of making music.
"I got the idea from one of the residents," says Leigh B., life enrichment director at Terracina Grand. "She was telling me about a group that she belonged to in Chicago. They played the ukulele. They played the harmonica. Everybody played an instrument. It sounded awesome, so I presented it to the group here, and they loved the idea."
Before long, she'd purchased ten ukuleles, lined up an instructor from a local college, and organized a ukulele group. They've been making music ever since.
"We handed out the ukuleles and I connected with the music director over at Florida Gulf Coast University," she explains. "He was already doing some lectures for my group here. I knew of his musical talent and presented the idea to him and he just took off with it."
The group meets on the first and third Thursday of every month, they practice in between and recently had their first performance.
"I think the instructor really made it," she says. "It was his personality, his enthusiasm, he just made it so fun."
Benefits of learning
Although half of the 10 members had some experience with ukuleles, the others were total newcomers, so their lessons focus on the basics. Yet with the ukulele, that's plenty.
"They only know three chords, but they play six songs with the three chords," Leigh says. "They also practice on their own and tune their instruments on their own, so they've learned a lot."
In fact, it's that spirit of learning that energizes the group.
"I think that they are energized about learning a new fingering. I think they're energized about meeting new people in the group," she says. "And other people are enthusiastic about joining the group because they saw how much fun we were having at the concert."
Challenges of learning ukulele
Although the ukulele may have a reputation as a relatively easy instrument, playing it actually presented some challenges for some of the members, since some are in their 80s and 90s.
"It's supposed to be a lot easier than guitar, but as you get older your fingers are not as limber," Leigh explains. "If you've got arthritis, holding down those strings can be difficult."
Yet she says those residents found other ways to contribute to the group.
One gentleman plays the harmonica. One woman plays the maracas. And a lady who typically plays the ukulele switches to a different "instrument" when they play Singing in the Rain.
"She got her old tap-dancing shoes and she puts them on her hands, and she tap-dances with her hands," Leigh says. "It's all about compromising and finding a fit where the residents can fit and can still contribute."
The concert itself was standing-room-only, with other residents and family members singing along. To Leigh, that reinforced the value of learning something new, at any age.
"It was one of the best events that have happened here in a while. They feel accomplished. They feel like they have achieved something," she says. "We're taking a bunch of people who love to play the ukulele, who have an interest in learning how to play an instrument, and we're just having a lot of fun."