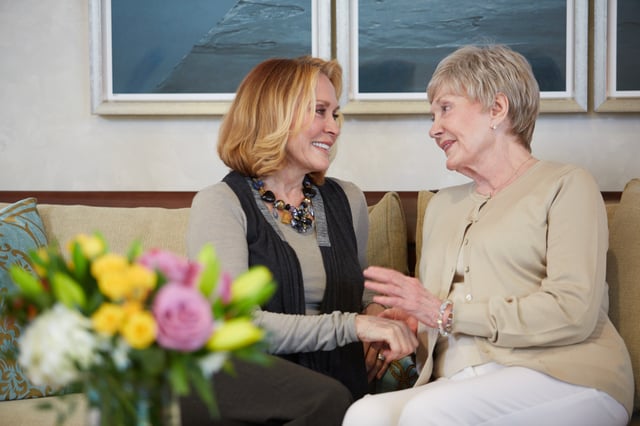 Having a loved one with dementia can be a significant adjustment for an entire family. While the nature of your time together may change, there is no reason it can't be just as rewarding and meaningful as it was prior to their diagnosis. We recommend that you talk with your loved one's memory care team. They can help you identify the best times of the day to visit, activities you can enjoy together, and other ways to make the most of your visits.
Timing Matters
Visit at a time of day that works best for your loved one. That may be during meals — which you can share with them — after a nap, or another time of day when they feel best. Later in the day, an effect of dementia known as sundowning can make them feel more tired and confused. The care team can advise you on the best times for your loved one.
At the beginning of each visit, say hello and use your loved one's name or relationship to you: "Hi Jean," or "Hi dad." If they seem uncertain, add your name: "Hi mom, it's Bob." If your loved one doesn't seem to recognize you, don't take it personally. This is an effect that dementia can have and it may or may not be recurring. Keep in mind that what's most important is that you're able to be together. Your loved one will feel your love and care, regardless of whether or not they remember your name.
Flexibility is Important
If you're visiting regularly — even every day — your loved one may not always feel or act the same as they did on your last visit. Accept that they are where they need to be in the moment and try to adjust to sharing that moment with them.
We suggest avoiding correcting your loved one's memory or comments, even if they're not accurate. It's also a good idea not to insist on anything like a day of the week, someone's name, or someone's relationship to your loved one. People living with dementia can be very sensitive to being perceived as "wrong." Being with your loved one is far more important than minor details.
Make it Quality Time
Stay as long as both you and your loved one are comfortable. One day that may be an hour or more; on another, 10 or 15 minutes may be enough. There is no set time frame for a visit, and every visit can be different.
However long you stay, make them the focus of your visit. Unless you are sharing an activity like a meal or other event, it can be confusing to your loved one if you're distracted by answering your cell phone, for example. It's best to stay in the moment and be present with each visit.