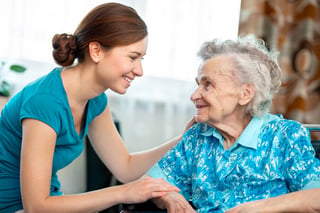 "How are you doing?" It's rare that a caregiver is asked that simple question. People usually focus on the one receiving care, not the one giving it.
If a friend's mom is in the hospital, people want to know how she's doing. If a relative is in memory care, the family wants to know the latest news. Yet the caregiver's well-being is equally as important. It often falls on the caregivers themselves to prevent their own burnout. That's where respite care can help.
What is Respite Care?
Simply put, respite care provides some "time off" for the caregiver — a much needed "respite" from some of their responsibilities. Perhaps the most common form of respite care is when a senior moves into a senior living community or health care center for a certain period of time. That could mean a few days, a week, or even enough time for the caregiver to take a vacation and recharge. Assisted living communities typically charge daily fees for respite care and offer the same kinds of services and activities the their permanent residents enjoy.
When a short break is needed, adult day services or home nursing services may be the perfect options. Adult day services are often located in senior living communities. Home care providers also offer respite services for shorter periods of time, which can include occasional half- or full-day care, a week at a time, or custom services based on the caregiver's needs.
Jennifer Ballantine, Executive Director of Able Care Connect Home Health, says that having someone come in "two times a week, like on Tuesdays and Thursdays," is a common choice. This generally provides caregivers enough time to regroup, take care of their own personal needs, and hopefully, relax.
Advantages of Respite Care
Caregiving can be so demanding that it's common for them to almost forget they need downtime, too. If you're not convinced that respite care would be helpful, consider the benefits that "respite" could spell out for you:
Rest and Relaxation: Taking time to enjoy the things that you find relaxing. Perhaps that means taking a walk, visiting a museum, or leaving town. It's important that you return to your caretaking responsibilities feeling refreshed. These activities can help calm your body, lower heart rate and blood pressure, as well as improve your overall mood.
Energy: Part of the reason to rest and renew is to recharge your battery. In general, a person can't be as effective running on "empty."
Space: Just getting away from your caregiving space can help you see challenges in a new light - even as new opportunities. It may not take very long, either. A few hours — sometimes even a few minutes — can help. Get outside, visit a friend, or plan a weekend getaway.
Pleasure: Sometimes caregivers can forget that they need to enjoy life on their own terms. Treat yourself to a massage, dinner with a friend, or some personal shopping.
Identity: It's important not to get "lost" in your role as caregiver. You're more than a caregiver, and you have a right — even a responsibility — to celebrate all the parts of your own life that bring you joy and comfort.
Time: The time you spend away from caregiving responsibilities may help you see things differently and identify creative ways to handle daily challenges. Time away will help you develop a new perspective.
Engagement: Social isolation can become a problem for caregivers, so it's important to stay engaged with friends and family. It's not only a time to relax, but it can be the perfect time to share with other family and friends your answer to that question: "How are you doing?"