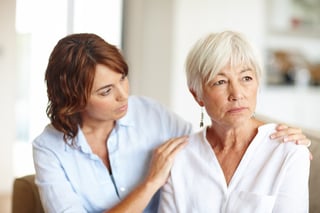 As we age, many of our experiences are beautiful and rewarding, like welcoming grandchildren into the world, or having the time to travel or focus on our favorite hobbies. At the same time, aging can bring tough losses, especially the loss of friends and family through death. These losses can understandably lead to a sense of isolation, which Hutch Walch, Director of Spirituality for the Goodman Group, and his team of Spiritual Directors try to address daily within our communities.
A Vet's Story
"I met with a veteran who had been front-line in Vietnam," Hutch shared. "He was crying because he doesn't have any friends left. So now he's suffering great loneliness."
Hutch says that kind of loneliness can lead to depression. So it's important for older adults to experience supportive communities and build new friendships. Spiritual direction helps do exactly that. As Hutch reminds us, "We all have to build community in our lives."
One-on-One Interactions
"We are right on the cutting edge," Hutch says. The new focus within Goodman Group communities involves addressing our residents' mind, body and spirits on a deeper level to ensure they are living a purposeful life. This goes beyond typical spiritual programming of the senior living industry.
Part of the uniqueness of the programs thais the one-on-one care residents receive from spiritual directors. This can come in the form of a weekly chat — just friends sitting together and talking about life. One Spiritual Director reads to a blind resident on a weekly basis. Another plays cards or leads a small-group conversation about grief. However, all Spiritual Directors offer meaningful, one-on-one care. "What is important to us is intense, personalized care. We are companions to the residents, our friends," Hutch says of the spirituality program at The Goodman Group.
Ways to Build Community
Through the work of our Spiritual Directors, we are finding that the best way for residents to feel a sense of purpose is through service and volunteering. There are resident groups, for example, who move from table to table at mealtimes, engaging with other residents, or invite more solitary residents to sit with them. That simple act can be a so meaningful for a new or shy resident.
"At senior living communities, everyone is looking for the same thing – new friends," says Gretta Freeman, creator of Grandma's Round Table. "They may have lost their old friends or their spouses and are really looking forward to meeting new people."
Another way to build a strong community is to involve everyone. That includes nursing staff, nursing aides, and even housekeepers. The latter may come as a surprise, but it's often housekeepers who have the most regular, daily contact with residents. For example, if they see a resident who seems to be down, they are empowered to bring that to the Spiritual Director's attention.
You can hear more from Hutch about The Goodman Group's innovative approach to spirituality in this video.