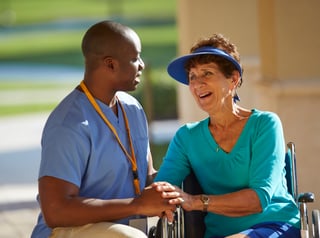 The dictionary definition for the word "respite" is an "interval of relief." It shares origins with the word "respect." The American Seniors Housing Association (ASHA) defines respite care as "services that provide caregivers with temporary relief from tasks associated with caregiving."
When considering the best interests of the entire family, it's important to ask if respite care is right for those family members who also serve as caretakers. While circumstances vary from family to family, here are some of the most common situations where respite care may be the best option.

In-Home Assistance
Your loved one may need temporary help at home, such as assistance with bathing, dressing, cooking, or even household tasks like vacuuming, laundry, or grocery shopping. In-home respite care services can provide this support when you or other caretakers are unavailable. You may need this extra help due to work commitments, family responsibilities, or even a restorative vacation.
Senior Day Care
Sometimes in-home respite care may not be enough to cover all of your loved one's needs. Or it may be that your loved one's quality of life would be enhanced by having more social contact. These are both situations where senior day care can be a solution. Day care programs vary, but many provide some medical assistance, such as medication management or moderate exercise programs. They all provide activities and social interactions, as well as peace of mind for you, knowing your loved one is well cared for when you can't be there.
Care Following an Ailment
If your loved one is recovering from an ailment, he or she may have additional care needs that are more demanding or complex. If so, that may well be an appropriate time for your loved one to receive temporary care in a rehabilitation center, at adult day care, or care in a senior living community that offers medical support.
Support at End of Life
The end of life is a time when specialized services may be required. A broad range of services include palliative care and faith-based support. These respite services can be provided at home or at a senior living community.

Whatever circumstances you and your loved one are facing, it's important to remember that respite care is about both of you, and that respecting your own needs is as important as respecting those of your loved one.
For more information, we invite you to contact us.