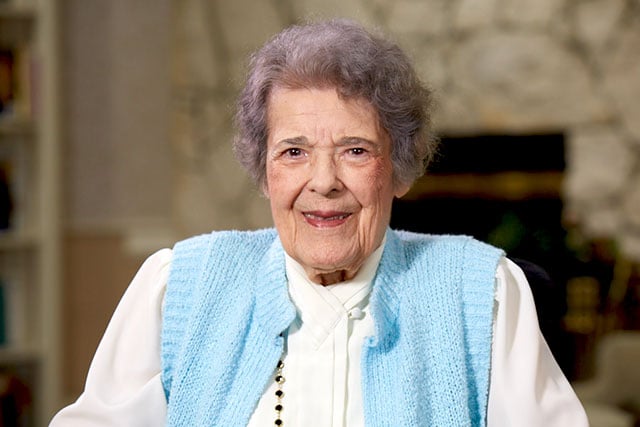 The world was a much different place in 1911. In fact, you might be surprised to learn of the many notable events that occurred that year.
The first expedition reached the South Pole
The Chevrolet Motor Company and IBM were founded
The first movie studio opened in Hollywood
The Mona Lisa was stolen from the Louvre
The year 1911 also happens to be the year Emma, a long-time resident at The Village Senior Residence in Missoula, Montana, was born. Last December, Emma celebrated her 106th birthday, and remembers both world wars and the Great Depression, but she still bleeds maroon and silver for her alma mater, the University of Montana. Here's her story.
Modest Beginnings
Emma was born December 10, 1911, in Sand Coulee, Montana, a mining town. She was the eldest of three girls. Her parents were Italian immigrants, so Emma only spoke fluent Italian until first grade. Although she initially struggled to mimic some of the unfamiliar English sounds, she persevered until she was fluent. The experience helped create the strong work ethic she'd practice in her college and professional career decades later. That work ethic eventually led her to attend the University of Montana. She was only 17 years old, but she was the first woman from Sand Coulee to attend the University.
Busy College Years
In college, Emma soon became senior assistant to her dorm housemother. She recalls dressing for meals, dining with tablecloths and linen napkins, and "learning manners." By her senior year, Emma was active in numerous campus activities including managing the school musical and serving as Queen of the May for May Fête activities. In 1933, after graduating with a bachelor's degree in math, Emma returned to Sand Coulee to teach high school algebra. Six years later, she returned to the University of Montana, where her career flourished.
A Long and Varied Career
Emma's first job at the university was as an assistant to the head of the math department. While working, she began attending classes and earned her master's degree in math. In 1942, she was assigned to teach navigation and civil air regulations to Air Force pilots stationed on campus despite the fact she knew nothing about these topics. "The boys would march to class," she told The Missoulian newspaper. "Those were wonderful days. The spirit was great. Students were wonderful."
In 1945, she served as the veterans affairs advisor, but one year later, she accepted a job in the registrar's office. In 1973, at age 62, she was promoted to registrar, which was a huge honor for her. In 1977, after being officially affiliated with the university for 58 years, she retired. But her love for the Grizzlies ran deep. She remained highly involved with the school, often being seen at football games, theater and dance performances. In 1998, she was even the homecoming grand marshal.
Years later, the university started a school scholarship, dedicated a bench and a building in her name. And today, Emma has earned the title of University of Montana's oldest living graduate.
Life at The Village
Emma moved to The Village Senior Residence in 1999. She even paid rent for a year before moving in to secure the spot she wanted, a third-floor apartment with views of Mount Jumbo and Mount Sentinel.
"Emma has always had a lot of guests and stayed active with her university connections," says Katie, life enrichment director at The Village. "Emma was married, and while she has no children of her own, she hears from many, many 'university children.' She has baskets of cards and letters, which she has always answered. Some years ago she added a computer and email to her repertoire."
"Emma is always the teacher. She's very vivacious, always loves spending time with young people, loves to visit, and is very independent even at 106 years old."
We could all learn a lot about a life well-lived from Emma!