The first thing you notice when you meet Evelyn Kleine is her sunny disposition and sense of humor. 110 years sure looks good on her. After all, for Evelyn, age is just a number.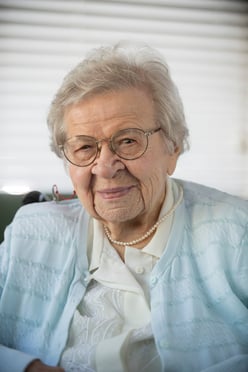 Evelyn in June at 109,
a month before turning 110
Born in 1907, Evelyn has lived through world wars, technology booms, the first moon walk, and countless other major developments in recent history. As you would expect from a 110-year-old, she has some incredible stories to share.
Life is Beautiful
Evelyn could give us all a lesson in healthy aging. Still sharp-minded, she sprinkles her stories with specific dates, ages, and street addresses. She moved into St. Anthony Health and Rehabilitation in St. Anthony, Minnesota six years ago, and continues to be the epitome of independence.
"The car gave out before I did."
Although her driver's license was valid until she was 102, she drove a car until she was 99 years old, stopping only when the car finally broke down. While her tenure driving is impressive in and of itself, it is equally surprising that Evelyn learned how to drive when she was 16 in her father's 1923 Ford Model T.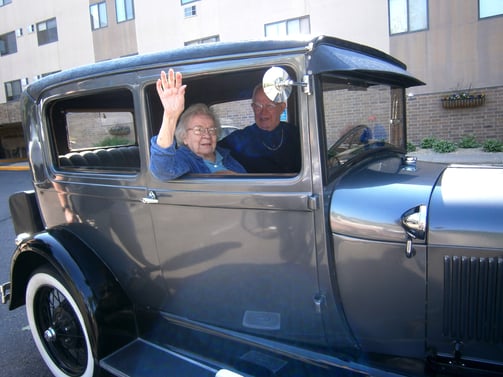 Riding in a Model T, the same car she learned to drive at age 16

Evelyn and her great-niece Joanie Anderson also reminisce frequently about a particular experience Evelyn had with chickens. As a child, Evelyn's family raised poultry. Her father worked in a rail yard and would often get orders from his fellow co-workers. "He would come home and say how many chickens were ordered for the next day and my mother would clean and wrap them," she remembers. As young girls, Evelyn and her older sister would then carry the butchered chickens under their arms, ride the streetcar, and deliver the chickens.
That was long before freezers, so they giggled about the ridiculous scene, yet that story is also a part of an important memory exercise they've created."You told me all your stories when you could remember, so that I could remind you of these things when your memory was going," said Joanie.
Joanie readily quizzes Evelyn about the old stories to help keep her mind sharp, although it doesn't seem all that necessary when they pull out a deck of cards to play cribbage. Evelyn wins every time.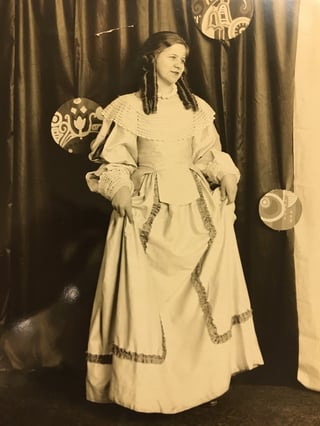 Evelyn modeling a creation
she made in dressmaking school, circa 1922
A Special Bond
Both outlived their husbands and never had any children of their own, but Evelyn and Joanie have always had a particularly special relationship. "She keeps me in line," said Joanie. "I am just so proud of her."
Although the two are 50 years apart in age, they've have been close since Joanie was born — bonding even more through the years and supporting each other through life experiences. "I was a mess when my grandmother died, and Evelyn was holding it together. She was just so strong," said Joanie. "At her age, she is just in a different place. She has gone through a lot."
Joanie visits her great aunt as often as she can. At the end of each visit, they sing a special song. It started a year and a half ago when Joanie would hug her goodbye and say "I love you." Evelyn would respond "I love you too...I don't know why," causing them to break into singing the old Nat King Cole song, "I don't know why I love you like I do."
Turning 110 years old
What is her secret for living so long? Evelyn would call it luck. "I don't have advice for anyone, I just got there," said Evelyn, before quoting another song. "The old grey mare ain't what she used to be. I am just glad that I am still able to get around."
She had originally thought that her 100th birthday was a big deal and has now lived through another wonderful decade.