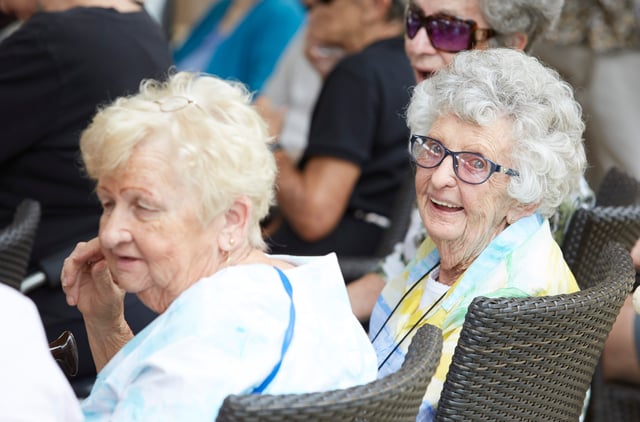 One of the great values of assisted living is the wide range of activities available for residents. While it might seem to some like a list of "nice to haves," assisted living activities are actually a fundamental part of residents' lives. They provide a wide range of benefits that positively impact both residents and their families.
Importance of Activities
The activities available to assisted living residents create a sense of purpose, fulfillment, and enjoyment. Activities are developed specifically to enrich residents' well-being. They focus on the whole person and provide a range of options to fit each individual: the person-first approach.
Assisted living residents want to have fun and to participate in activities that are meaningful and engaging to them. Often residents come to assisted living with hobbies and interests they've already developed and enjoyed. The activities within the community can support residents in continuing those interests, as well as developing new ones.
Types of Activities
Because everyone is different, assisted living facilities should provide a wide range of activities to suit any resident's tastes and needs. These can include:
Art therapy: painting, clay sculpting, collage, decoupage, and adult coloring
Culinary arts: baking and cooking
Textile arts: weaving, knitting, and crocheting
Music therapy: choir participation or just listening to soothing music
Caring for small animals (such as birds or fish) or indoor plants
Outdoor gardening
Social activities, including worship services, book clubs, and movie nights
Playing board and card games
Dancing, yoga, resistance training, and other fitness programs
Benefits of Activities
In addition to life enrichment, assisted living activities can enhance residents' lives in many ways. Just some are:
Physical activities can build strength, balance, and flexibility
Creative activities keep the brain active and can help cognitive function and even improve immune function
Engaging in activities can help relieve anxiety, improve sleep, and in some cases reduce or eliminate medications
Activities enhance the sense of community and belonging
The Goodman Group Approach
At The Goodman Group, we are continually developing programs based on the latest trends, research, and innovation. Some of our unique programs include nature (green) activities, opportunities to give back to the community (like our Intergenerational Learning program), and essential oil programs. These are all part of our commitment to provide the very best programs for our residents, always with the intention of achieving their optimal quality of life.