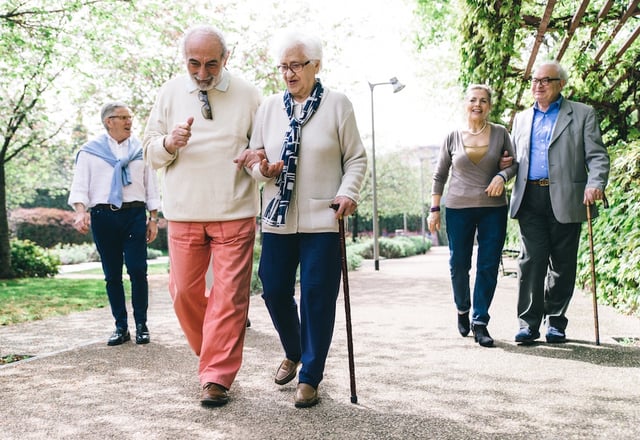 We know that exercise is good for us and it's important to stay active. But it's also easy for some activities to fall by the wayside as we age. Running, basketball or tennis, may all become physically challenging. While we may take it for granted and not view walking as "exercise," the benefits of a daily walk are actually pretty impressive — especially for older adults.
Margo Peyrot, an 89-year-old resident at Terracina Grand in Florida, has been walking for exercise for 25 years. Her daughter Wendy believes the reason she is so healthy and full of energy is because she has been so active and dedicated to walking. Margo even started a walking club in her community. "We walk for half an hour, but even that little bit helps," said Margo.
The Many Benefits of Walking Everyday
To learn more about the health benefits of walking, we talked to our very own Dee Leman, Director for Physical and Occupational Therapy for The Goodman Group. Dee works daily with seniors to help them maintain strength and mobility as they age. She talked with us about the most important physical benefits of taking a daily walk.
Heart Health

. Possibly the best-known benefit of walking is that it improves circulation and contributes to a healthy heart. "Just 30 minutes a day can reduce your chance of stroke by 20 percent," Dee said. "And if you can work in your target heart rate, it's 40 percent." Dee noted that although 30 minutes a day may not be possible, especially if you're just starting a new routine or healing from an injury or surgery, you can be experience benefit from shorter walks. "Anything is better than nothing," she said.

Pain Relief

. "There are many studies that show walking can help with pain," Dee pointed out. "The Arthritis Foundation is very clear that movement is essential to help maintain your health." The Foundation has deve

loped a Walk With Ease program to help get you started.
Type 2 Diabetes

. According to resear

chers, a walk after eating can be effective in lowering blood sugar levels and reducing your risk of diabetes. It doesn't h

ave to be a long walk, either. Just three 15-minute walks a day were found to be as effective as one 45-minute walk.

Bone Density

. "Weight bearing is essential to maintaining the strength of your bones," according to Dee. Walking can be effective in helping to maintain bone density, which may prevent the symptoms of osteoporosis.

Physical Strength

. Walking helps strengthen the lower body and legs. In turn, that can assist in maintaining balance and preventing falls.

Weight Management

. Last but not least, walking (like any exercise) burns calories to help you maintain a healthy weight.
Mental and Emotional Benefits of Walking
As beneficial as walking is for the body, it can also be a mood elevator and improve one's mental clarity.
"You'll just feel better," Dee said. Then she shared a personal story about her own 90-year-old mother, who can walk with assistance, but otherwise is mostly wheelchair bound. Recently, Dee and her sisters took their mother to the beach and walked her down to the water. "When she felt the water hit her feet, she was so happy. Just sheer delight. She said, "I'm just thrilled to have shared that experience with her."