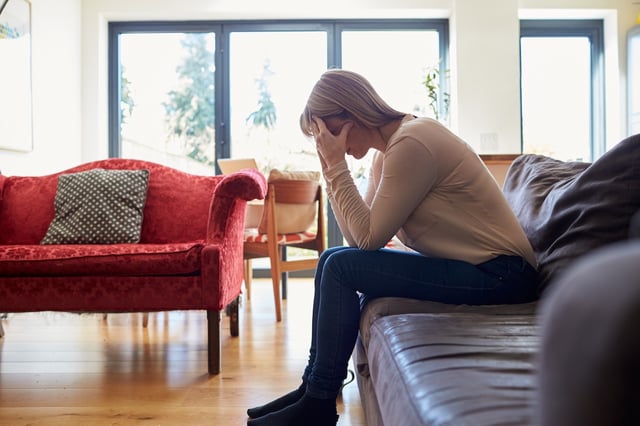 "If you're traveling with someone who requires assistance, secure your mask first, then assist the other person." That's the familiar reminder flight attendants always give before takeoff. Similar sounding advice applies if you're a caregiver for an aging parent or other loved one: secure your own self-care first. It will help prevent burnout and give you the energy to be the best caregiver you can be.
Here's how to know the signs of caregiver burnout, how to prevent it, and what to do if you do find yourself burning out, despite your best intentions.
Recognizing the Signs of Burnout
Over 40 million Americans care for their elderly parents, according to HealthinAging.org. Jennifer Ballantine, Executive Director at Able Care Connect Home Health, points out their challenges: "Adult children are taking care of their own lives, their own children, and now they're taking care of mom and dad, too," That can add up to a lot of responsibilities. It's important to recognize if and when the pressures of those responsibilities may be getting to be too much.
Jennifer says there are some tell-tale signs that burnout may be on the horizon:
Feeling irritable or being short-tempered on a regular basis

Feeling that you're at your "wit's end"

Crying when faced with one more task or challenge that by itself would usually be fairly easy to manage

Becoming physically weak, exhausted, or ill

Someone else commenting that you're looking drained or tired
Preventing Burnout
According to Jennifer, caregiver burnout is all too common. Yet there are steps you can take to minimize the chance of it happening to you. "It's really about the basics of any self-care," Jennifer says. That includes:
Getting enough sleep

Maintaining a healthy diet

Taking walks or getting other exercise

Simply taking time for yourself
What to Do If You're Experiencing Burnout
Of course, it's best if you can avoid burnout altogether. However, that's not always possible.
Jennifer relates her own story. "My grandmother had a fall," she explains. "I was in the hospital with her for four days. I'm the biggest cheerleader of taking care of yourself, but it's different when you're in it. I forgot to eat. I forgot to sleep."
If you find yourself in a similar situation, try to take some time out. Get away, even if it's for a walk around the block or to the cafeteria in the care center. Just removing yourself from the immediate situation can help — even if it's just for a few minutes.
For longer-term situations, Jennifer also suggests:
Finding a support group, especially if you're caring for a loved one with dementia or Parkinson's disease.

Looking into respite care for your loved one, which many retirement communities offer. Read more about respite care at our blog here.

Hiring a personal care worker to help with errands like grocery shopping, or as a companion to your loved one.
Most senior living communities, senior centers, and places of worship can help you find reputable services to help you be a well-balanced, healthy caregiver for your loved one.