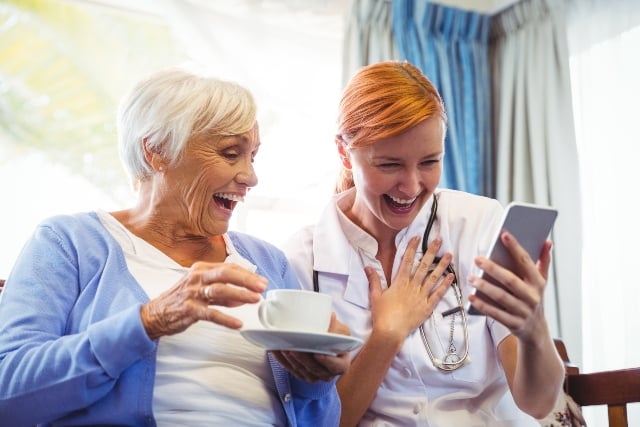 Becoming the caretaker of an aging parent living with memory loss can be an emotional time, a time when long-established roles and responsibilities become reversed. As foreign as this new responsibility may feel, it's important to know that you are not alone. According to the National Institutes of Health, experts estimate that in the United States, as many as 5.8 million individuals 65 and older are living with Alzheimer's disease dementia. The number of people who care for and love these individuals is far greater.
When a loved one experiences Alzheimer's disease or another form of dementia, first remember that they can still enjoy a fulfilling life in an environment that nurtures and cherishes their well-being. As you help them navigate the transition into memory care, you are helping them continue living their life to their fullest, surrounded by love, kindness, and constant care.
With more than 50 years of experience, we have learned that we can always strive for quality of life. Memory loss is no different. We have not only seen but experienced first-hand the extraordinary ways in which memory care can provide comfort to loved ones and their families.
As you take the first step into exploring memory care options, we hope to provide insight into how this specialized form of care can benefit your loved one and your entire family.
What Is Memory Care?
Memory care communities can vary greatly, but there are certain, important services you want to be sure are offered in the communities you explore. Quality environments should be designed to recognize the value of each individual and help residents live dignified, well-rounded lives. These neighborhoods should feel comfortable, safe, and secure in order to adequately care for your loved one.
Basic qualities of memory care include:
Skilled nurses and team members with specialized training for memory care
Increased supervision to ensure safety
Special programs to provide structure and fun activities

Cognitive coaching

to maintain cognitive function and resilience
Look for a memory care community that focuses on your loved one's individual strengths and promotes opportunities for their growth, engagement, and overall well-being.
Person-Centered Care
Personal environments are incredibly important for those with Alzheimer's or dementia. Living spaces should provide structure and routine while allowing flexibility to meet an individual's needs. At memory care neighborhoods managed by The Goodman Group, the managed communities provide ongoing support to residents and their families during all stages of the transition process and through the progression of the diagnosis.
As a part of the care journey, team members at each community work with your family and your loved one to develop a personalized plan of care that identifies the resident's needs. The care plan is updated to reflect changes as the resident's needs evolve.
Once your loved one is living in a memory care community, new interests can still be cultivated and enjoyed. For any community you explore, you might want to ask how each individual's interests, needs, and abilities are respected and whether the team members will develop programming with your loved one's passions in mind. For example, the Villa at Terracina Grand memory care community in Naples, Florida, adapts activities so residents can go on outings in nature, take picnics, trips to the zoo, and check out local art exhibits. They can also explore new hobbies like floral arranging, volunteering, or joining a choir. Villa at Terracina Grand is one of the few memory care communities that regularly take residents on outings outside the community. So, if you're interested in truly finding person-centered care, be sure to do your research.
With the right care, structure, and inspiration, individuals facing Alzheimer's and dementia can achieve extraordinary results. Our caregivers work in memory care training and ongoing in-service continuing education to provide the safe, dignified, caring environment your loved one deserves.