Most people understand that to stay physically fit, you need to follow specific health guidelines: eat nutritious food, strengthen your muscles, and do cardio exercise several times a week. Just as our bodies need exercise to stay fit, research shows that our brains also need exercise. Also known as "cognitive stimulation," brain exercise is essential to maintain optimal health and performance, or "cognitive resilience." Again, much like our bodies, keeping our brains fit with cognitive stimulation becomes increasingly important as we age.
Healthy senior living habits include considerations for long-term mental health. In November 2019, The Wall Street Journal reported research findings that "around 35 percent of dementia cases might be prevented if people do things including exercising and engaging in cognitively stimulating activities." Additionally, in 2020, Stanford Medicine neurologists advised that "cognitive stimulation has also been shown to be an effective habit for preserving cognitive degeneration."
HOW FIT MINDS PreventS Cognitive Degeneration in Seniors
"When we don't use our brains, we begin to lose synaptic connections," explains Janet Knupp, the President and CEO of Fit Minds, an organization that provides cognitive stimulation therapies for older adults and individuals living in senior communities. "If I sit around on a sofa and don't exercise, my body will atrophy. Our brains are no different. It really is a matter of use it or lose it." Janet witnessed the benefits of cognitive stimulation firsthand after her mother was diagnosed with Lewy body dementia, which can affect behavior, mood, memory, and cognition. Her mother's experience inspired Janet to launch Fit Minds in the United States in late 2016.
One of the key challenges Fit Minds faced in rolling out their services was identifying the right community partners. "When we were getting started, we knew we needed partners who also understood that cognitive and psychosocial well-being should be valued as much as physical well-being," Janet said. Then she met Katie W., national life enrichment director with The Goodman Group.
"Fit Minds' evidence-based approach to cognitive stimulation is what initially resonated with me," explains Katie. "Over the course of my career, I've vetted many cognitive health platforms, and there are some fun ones out there, but Fit Minds' research-backed assessments make it easier for individuals, their families, and their caregivers to track progress, and that's what really drew them to me."
Exercising the Five Key Areas of Cognition
According to Fit Minds' research, there are five key areas of cognition that need to be engaged for ongoing optimal brain performance: language and music; visual/spatial orientation; memory; critical thinking; and computation. "Crossword puzzles and trivia only engage long-term memory," Janet explains. "They don't expose you to new content, which is what creates new synaptic connections."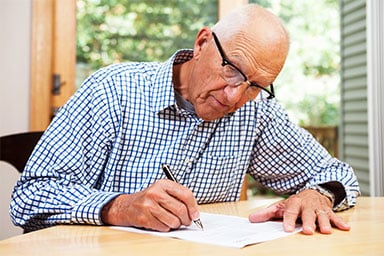 That's why each Fit Minds program session, facilitated by a trained team member, has multiple learning goals, which target each of the five areas of cognition. It might start with a breathing exercise to warm up the body before next asking participants to discuss capitals of the world. Next, they may solve a visual or word puzzle, a math problem, or even write a poem. These activities are designed to be done individually or in groups throughout the week to engage all five key areas.
"Individuals are becoming more discerning about the need to keep their brains fit," Janet says. "We talk a lot about mental stimulation and meaningful engagement. I have seen this work magic in changing the quality of life for seniors and their families." She especially loves when families get involved in the curriculum. "Mom and I used to go to exercise class together, and we always laughed and had fun. Staying healthy should be fun."
Staying Cognitively Stimulated During Covid-19
Cognitive stimulation has been more important for seniors over the last year than ever before. In lieu of not being able to always gather in groups due to safety protocols, team members at The Goodman Group managed communities have adjusted the curriculum in creative ways. Katie explains, "I've heard of teams bringing worksheets out with breakfast and dialing into a group call, or returning the completed activity worksheet later in the day."
For communities, caregivers, and residents, prioritizing cognitive training has helped to alleviate sources of stress. "How can we help residents maintain their optimal level of well-being?" asks Katie. "That's really been the question. In the midst of navigating social distancing guidelines, we don't want anyone to feel cognitively isolated. We wanted them confident that after this is over, they'll be just as sharp and capable as they were pre-pandemic."
Like any form of exercise, finding individual preference is the key to success and sustainability. Tammy D., life enrichment director at Regal Palms at The Palms of Largo says, "Regal is facilitating Fit Minds as an in-room activity [during COVID]. The residents appreciate the ability to continue with this program on their own and they really enjoy it. When we are back to 'normal' we plan to bring back the group setting along with the 'take and go' for those who prefer to participate on their own. Our Fit Minds group has grown in spite of the pandemic!"
"Our goal is to keep our residents healthy and stimulated," says Katie. "Intellectual wellness is part of the culture here, and Fit Minds has helped us build on that culture."