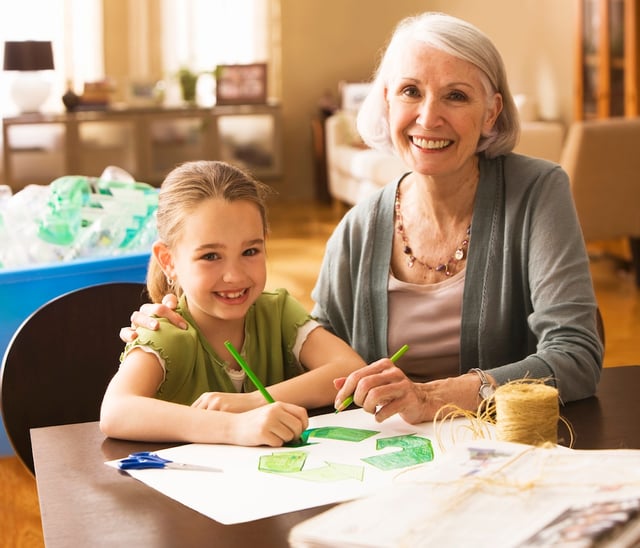 They're called The Golden Years because they give seniors more time to enjoy family, friends, travel, and other interests that they've developed over the years. That's great news for many. Yet others aren't as excited about retirement. They may have been devoted to their life's work and not have as many hobbies or interests ready and waiting to fulfill their sense of purpose. It's not uncommon for some newly-retired seniors to declare, "I don't know what to do with all this time!"
Katie, The Goodman Group's National Director of Life Enrichment, and Gretta, the energetic grandmother who started Grandma's Roundtable, have some great answers to that question.
Wellness and a Sense of Life Purpose
A key to enjoying any stage of life is having the sense that your life has purpose and meaning. That's just as important — maybe even more so — as we age. Katie calls it "having a sense of vitality," based on a study she recently read.
"Ultimately, the study indicates that wellness is about one's vitality and how the physical environment is designed to support the whole person." Katie says the study focused on senior living communities, but it could really apply to any situation. Whatever creates and sustains a sense of vitality in one's life is worth pursuing. "That could be golf, photography, volunteering at a local shelter, or taking a creative writing class," Katie says. "The possibilities are endless."
Simple Suggestions
Gretta has a host of simple suggestions. "Find something to give you purpose," she says. "My son volunteers at the Science Museum and it's right up his alley! He loves it!"
"If you're looking to inspire your loved ones, don't tell them to participate in something, tell them to be a volunteer. They still participate, but this way they have a different perspective."
"Senior centers are great," Gretta adds. "They have seminars with interesting speakers. Young people interact with seniors there, and that offers a sense of community. A lot of senior living residences have their versions of these centers with classes and seminars, too."
Whether it's a game of miniature golf with friends, a French cooking class, volunteering at a local food shelter, or picking up a paintbrush, the recommendations from our experts are to stay connected, do those things that inspire you, and find that sense of vitality and purpose.
Community, Community, Community
Katie emphasized the importance of staying in community, which can mean family, friends, your local community center, volunteer activities, even political or social action. Anything that helps you share interests with others.
"I feel strongly about a sense of community," Katie says, explaining how she recently urged an early retiree to get out and about. He was reluctant at first, but made great progress after a few positive experiences. "He started to initiate other relationships and connections once his confidence increased and he developed a new routine and activities."
Gretta sums it all up nicely: "Everyone's gotta have somebody. We're all just looking for a sense of community. People with similar interests."