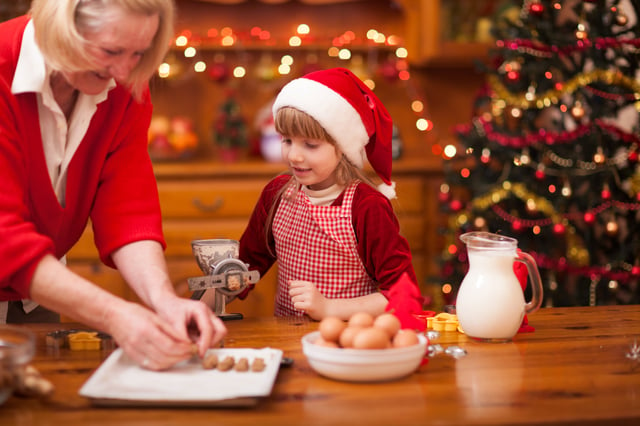 The holidays are here and what a wonderful time of year for families to gather and enjoy each other's company. It can also be an extra special time for grandparents and grandchildren to enjoy activities together; a time to cross generations and learn from each other through fun activities. Holiday activities the whole family can enjoy together will make this holiday season one to remember for years to come.
Activities at Home
There are so many activities the family can enjoy together at home. Many of them can be shared year-round, as well as be adapted for the holidays. From baking to puzzle solving to watching the classic film "It's a Wonderful Life," you can make this year special for the whole family. Here are just a few ideas for activities to choose from (and you can always design your own, too):
Sharing your long-time favorite holiday recipes with your family. Explore them with your family. . . and make them together!
Save your tree-trimming for the family to help with!
What games did you play back in the day? Monopoly, Sorry, Candy Land, Clue, Chess, or Checkers?
Make handmade holiday decorations. What decorations did your family make when you were young?
Draw and discuss your family tree.
Read favorite books aloud to one another.
What are your favorite classic holiday movies? White Christmas, A Christmas Carol, or It's a Wonderful Life? Have a movie night with your family!
Re-visit family photo albums and share family memories. If you don't already have a photo album to look through, or it needs to be updated, begin this project with your loved ones.
Bonus Activity from The Goodman Group
We like the idea of creating a memory game using family photos. Or chose holiday images that you can download right here. Just print, trim, and start having fun with the whole family!
Activities at a Senior Living Community
If you have grandparents or other family members residing in a senior living community, the whole family can participate in the activities that are offered there. Ask about ongoing activities for residents that family and friends can join. These may include art-making activities; outings to museums, plays, and movies. Board and card games are always great options, too. You can be certain that the community will take into consideration any adaptations to the activity that will benefit your loved one.
In addition to these ongoing activities, most senior communities also sponsor holiday-oriented events and activities for residents and families. These may include caroling, choral and music presentations, tree-trimming activities, holiday baking events, and special worship services.
Wherever you celebrate the holidays this year, The Goodman Group wishes you a safe, happy, and peaceful season.