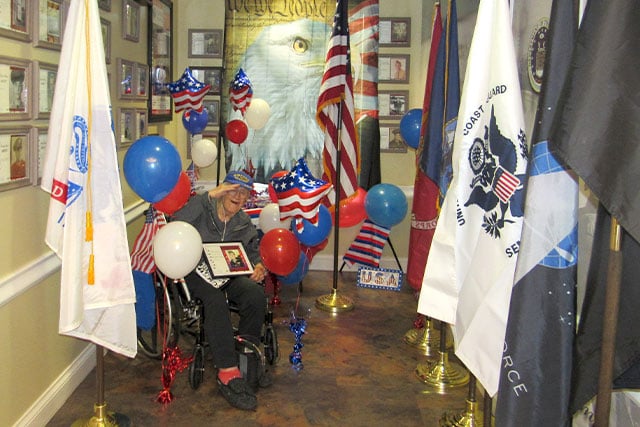 "As we express our gratitude, we must never forget that the highest appreciation is not to utter words, but to live by them." — John F. Kennedy
More than 16 million men and women served in World War II and 2.7 million served in Vietnam. Many of the survivors now live in senior communities around the country, where appreciation should be lived, not simply uttered.
Here at The Goodman Group, we honor veteran residents through Valiant Veterans®, a program that unites this community of individuals. Of course, with 35 managed communities nationwide, each program looks a little different.
Here are some ways our managed senior living and health care communities honor veterans.
Honor at Home
Julie, life enrichment director at Villa at Terracina Grand (Villa) in Naples, Florida, is passionate about nurturing her veteran community. Perhaps, it's because she was a veteran herself — formerly serving in the U.S. Marine Corps during the Vietnam War. Not only does she serve our veteran residents through the Valiant Veterans® program but she volunteers with Collier County Honor Flight, an organization that takes World War II and Vietnam veterans to Washington D.C. for one day to visit the war memorials. Her involvement in both programs inspired her to blend the two.
A few years ago, Julie accompanied a Villa resident on the Honor Flight. Although she had a fantastic time, she couldn't help but think about the veterans back home who couldn't make the trip because of memory issues. So, last year, Julie started Honor at Home, a one-night event that allows veterans in memory care to experience the Honor Flight in their own way. "It's really fantastic," Julie says.
The veterans, who wear the same Honor Flight shirts and hats as those who go to Washington D.C., and their guardians take a shuttle to the Fort Myers Airport, where a special room is reserved for them. Volunteers decorate the room to mimic an airplane with an aisle and seat numbers. Some even dress as flight attendants. Before they "board the plane," veterans must get their boarding pass stamped. They watch a film that depicts a pilot preparing for takeoff as the "flight attendants" walk by to check that "seatbelts" are fastened. The veterans enjoy dinner and a live stream video of Honor Flight participants touring the war memorials. When all is said and done, each veteran receives a personalized book of each monument and a page featuring photos of them during their service.
Brunch for Brave Veterans
In years past, the Plaza at The Palms of Largo in Largo, Florida, provided activities for the veterans on campus. Between the four senior living and health care residences at The Palms of Largo campus, there were up to 60 veterans at one time.
Veteran recognition included breakfasts at The Plaza, an outdoor space on campus. Residents and guests attended each breakfast, which included special programs with either a speaker or entertainer.
On Veteran's Day, they also hosted a brunch off-campus. The large-scale brunch was hosted at the Largo Community Center in the ballroom named after Sidney Goodman, the founder of Sage Company, which later became The Goodman Group under his son and former chairman, John. The 2018 event even included a message from the mayor, a guest appearance from Sarge, the bald eagle, and a patriotic salute musical show by Royal Palms' performing arts director and residents.
Send-off and Welcome Home Parties
The Palms of Largo has hosted send-off and welcome home parties for active service members from MacDill Air Force Base in Tampa, Florida. The group of veterans, either leaving or returning, visited The Palms of Largo campus and enjoyed pizza and wings with our veteran residents. It was a great way for our veterans to encourage these service members and provide advice about deployment.

"One service member that attended a send-off party a couple years ago was 18 years old and just enlisted," said one organizer after an event. "He had just received his first deployment papers. He couldn't thank us enough that there were people out there that think about them. The ability for our veterans to share and talk to these younger ones is just amazing. They have so much knowledge to share."
Presentation of a Challenge Coin
To show the community's appreciation to its veterans and to allow veterans to show their appreciation to one another, The Palms of Largo also created a challenge coin at one point.
The challenge coin was originally used to identify deceased service members during World War I and World War II before dog tags became commonly used for this type of identification. Much like dog tags, you had to have your challenge coin on you at all times. In fact, it got its name when a captain pulled out his coin at a bar and challenged his men to show their coins. Whoever didn't have their coin bought everyone a drink. If everyone had their coin, the captain bought everyone a drink.
When a veteran left the military, their challenge coin later became a token of appreciation for someone who saved their life, and they would hand their coin off to that person. It was a simple gesture to show the greatest gratitude that they could.
Military Wives Luncheon
Chandler Place in St. Anthony, Minnesota, makes a point to honor not only military veterans but their partners, too, given they made sacrifices of their own. Every year in March, Chandler Place hosts a military wives' luncheon. Organizers also try to have a female military speaker at the event.
Each team member agrees that the program helps unite veterans and lifts their spirits. "They seem a little more upbeat to know that there are others out there and that we're here for them," one Chandler Place team member said. "Each person is different and each person has their own little things about them, and we recognize that no matter who they are. It's a great way to build relationships and trust. It adds fulfillment to their lives."
We're proud to have so many military veterans in our communities, and we hope that our Valiant Veterans program shows them just how much we appreciate their sacrifice.