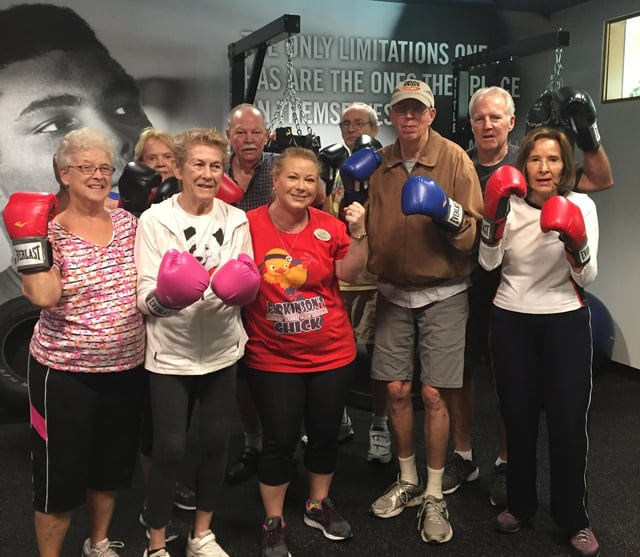 Boxing? As in Muhammad Ali, Joe Frazier, and Floyd Mayweather? That kind of boxing? Yes, the very same — with adaptations, of course. An innovative program that started 11 years ago in Indianapolis is helping thousands of people with Parkinson's feel stronger, steadier, and more supported in their journey.
Bob's Story
This past March, Bob joined Rock Steady Boxing at Cypress Palms, an assisted living community at The Palms of Largo in Florida. He was more than a little reluctant, and it took his wife June's insistence to get him going.
Before he started boxing, Bob was using a walker, and according to June, was pretty unsteady at times.
"Each week we saw improvement," says boxing coach Leah, who leads the Cypress Palms boxing program. Then last week — just 2½ months after he put on boxing gloves for the first time — Bob was no longer using his walker.
With his strength and balance improving, June says he's down to a cane, at most. On the day we spoke with her, Bob walked into the boxing class without any help.
Amazing Results
The truly amazing thing is that Bob's story isn't unique. Coach Leah says they see great results with almost everyone in the program. "It improves balance, hand-eye coordination, coordination in general, improves strength, helps with muscle rigidity, even helps cognitively," she says.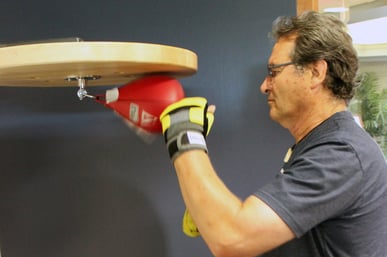 Another key factor and benefit of the program is the social element it provides. Participants become a support group for each other. Because they're all dealing with the effects of Parkinson's, they can relate to each other's challenges in ways others can't.
"The social and camaraderie aspects of this are crucial," she says. "They become a family."
How it Works
Classes are held two to three times a week and are offered at beginning, intermediate, and advanced levels. Most participants progress through those levels as they gain strength and balance.
Coach Leah describes it as "non-contact." Participants aren't actually boxing against each other. Instead, they use training tools like heavy bags, speed bags, and focus pads.
Every participant has a "corner person," a companion who is with them at all times during the class. They act as a spotter and coach, talking them through exercises if needed and making sure they're steady on their feet. Often the "corner person" is a spouse, but can be any family member or friend.
Expanding All the Time
Rock Steady Boxing has grown from just two guys in a gym to over 400 affiliates worldwide. At The Goodman Group, we've added the program to several of our senior living communities, and look forward to adding it to even more.
To learn more about Rock Steady Boxing, check out the Rock Steady Boxing at The Palms of Largo Facebook page, Rock Steady Boxing at Inn on Westport Facebook page and YouTube video.