Back in February 2021, two residents were waiting in line to get their COVID-19 vaccine at The Lodge at The Lakes at Stillwater. Fast forward to August 4, 2022, and those once strangers tied the knot in the very room they first met. Their wedding guests included family members, fellow residents from The Lodge as well as Birchwood Landing (Lake Homes on The Lakes at Stillwater campus), and team members from those communities.
Setting the Scene for Love
The now happily married couple both led lives of great adventure and education before meeting one another. The groom, John H., grew up in Michigan as the oldest of three and attended the U.S. Coast Guard Academy. Here, John had the privilege of marching cadet honor in the funeral procession for General Douglas MacArthur.
After his time with the U.S Coast Guard, John transferred to the University of Michigan to achieve a mathematics degree. John then spent three years as a lieutenant working in the U.S. Army Security Headquarters in Arlington, VA before opening his own tax and computer consulting firm. Once he retired, John moved to The Lodge at The Lakes at Stillwater to be closer to family.
The bride, Linda R., also grew up as the eldest of three but in New York City. She studied the Dakota language at Sitting Bull College at Standing Rock in Fort Yates, ND, and at the University of Minnesota in Minneapolis, MN.
Linda became a reiki master, certified health coach, and massage therapist studying complementary medicine healing practices. During her time of practice, Linda was a respected healer, guest lecturer, and well-known metaphysical/spiritual study group facilitator across five states.
Love Story
The two paths crossed when they were standing in line to get vaccinated for COVID-19. "We were standing on blue dots, six feet apart for our second COVID-19 vaccination," explained Linda. "We began talking and knew that we belonged together," she remarked. Love at first sight only begins to explain the immediate connection Linda and John felt when their gaze met.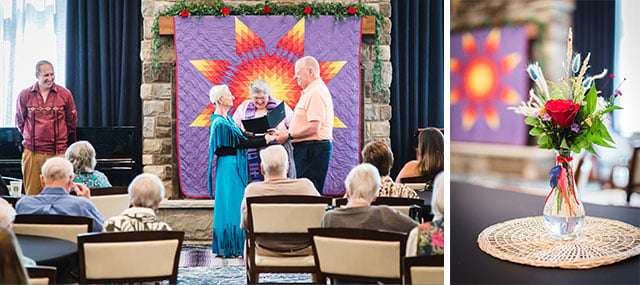 "I felt a shift in the universe," said Linda. "I turned around and he was coming towards me." Linda felt an immediate connection between John's aura and her own. "We've been together ever since," shared Linda.
John explained in more detail that the two, "...got our shots, we came into this room and waited for 15 minutes to see if we'd react. Then we started talking and we shared a lot of common interests from that point forward."
As a wedding present, the team at The Lodge at The Lakes of Stillwater framed the blue "stand 6 feet apart" dot that Linda was standing on when the two met while waiting in line to receive their shots, and all of their fellow residents signed it.
And of course, congratulations, John and Linda!