Residents at Cypress Palms, a senior living community managed by The Goodman Group, are finding that learning is just one of the joys of taking part in a unique program: the Gather and Grow Gardening Club. That might make most think of digging in the dirt and endless weeding, but the Cypress Palms program is an entirely different venture. It's hydroponic gardening — a gardening method that allows residents to grow plants without soil.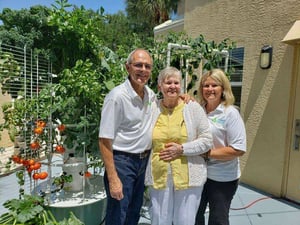 Started by Cypress Palm resident Statia's daughter and son-in-law, Jalaine and Lucien of Hydroponic Tower Gardens, the garden club now has three hydroponic gardens. These gardens are uniquely designed to have everything growing vertically, using only water and nutrients. The first tower was started in the lobby and grew smaller crops like herbs and lettuce. It was so successful that two larger tower were started outside. They grow eggplant, tomatoes, strawberries, and other produce.
Residents Love Their Gardens
Residents have been thrilled with the gardens. So much so that Jessica, life enrichment director at Cypress Palms, says that some residents have started coming out on their own to tend the gardens. Even on the days that the gardening club doesn't officially meet, residents can be seen watering the plants, pinching off dead leaves, and generally caring for the gardens.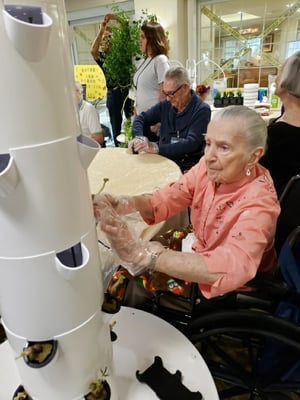 Larry, president of the club, sums it up for many of the residents, "I especially like getting together with other residents to learn about and to work on gardening projects. The hands-on activities of planting seeds, replanting seedlings into the tower garden and then maintaining the garden by watering and adding nutrients give us a chance to learn about and participate in the plant growing process."
Even though Larry is confined to a wheelchair, the towers enable him to participate fully. "I can do and enjoy all of the garden club activities. This gives me the chance to do something new and to interact with other residents," he says.
Sharing With the Whole Community
Everything the garden club grows is used by the Cypress Palms chef in preparing residents' meals. In fact, residents work with the chef to decide the best crops to plant for the kitchen's cuisine. This gives residents an even greater sense of purpose to their gardening—they're contributing to something that goes beyond the joy of gardening: they're serving their fellow residents.
Special Needs Students Join the Residents
As the garden club grew, Cypress Palms partnered with Suncoast New Options, an adult day training program for individuals with developmental and intellectual disabilities. Twice a month, students from Suncoast join residents to help with the gardens. They help transport residents to and from the gardens, help replant the towers, and paint rocks and pots that decorate the garden area.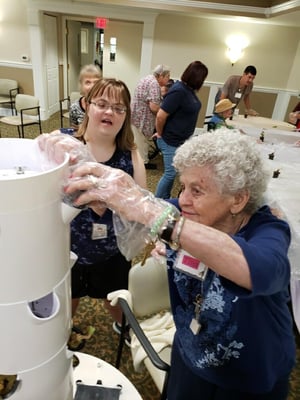 "It's been an incredible shared experience for both residents and students," Jessica says. The residents and students have naturally paired off and formed friendships that have everyone looking forward to gardening days. At the same time, the students are learning life skills and residents are delighted to help them learn. As Jessica puts it, "It builds confidence, as well as an interest in gardening."
It even goes beyond that, according to Bill, one of the many residents who enjoy their time with the students. He says, "It makes me feel good to help myself as well as the students. The students are part of the program and they affect me because I used to teach students with learning disabilities, so that is the highlight of my day."
More Than a Garden
It started with a fun idea: bring easy-to-do gardening to a senior living community. But the Gather and Grow Gardening Club has become so much more than three beautiful gardens and a club for seniors. It's served all of the Cypress Palms residents with its bounty of fresh, healthy food. It's become a part of the larger community by engaging the Suncoast students. And it's given purpose, beauty, and engagement to everyone who participates.
Said program founders Jalaine and Lucien, "We would love to see the program expanded to many more communities; bringing gardening back to those who may have lost the ability to garden in their lives. The Tower Garden makes that possible to bring the joy back!"