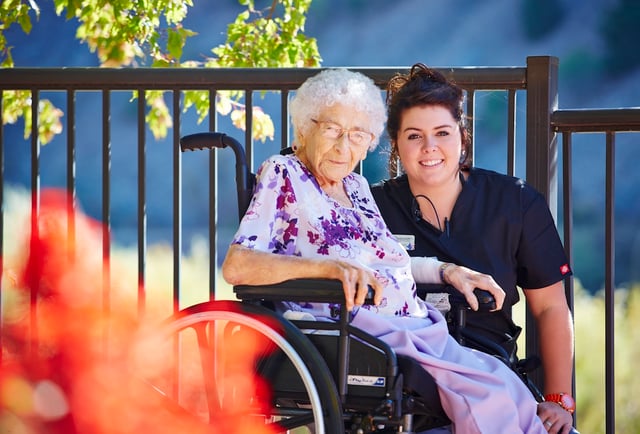 As a caregiver, you may have come to the realization that it is time for your loved one to begin the next chapter of their life at a senior living community. While there are a variety of living options available, you will want to find the best match for your loved ones needs. So where do you start? The first step is understanding the different types of communities available and the services they provide.
Independent Living
An independent living community is a great option for seniors who need little or no assistance with daily living, but may just want to live among other seniors in a safe and social environment. Many residents living in independent living communities feel comforted knowing that assistance is available should they need it.
The independent lifestyle allows access to amenities such as housekeeping and groundskeeping services, meals, laundry, entertainment, and transportation. Some independent living communities also provide basic medical care as necessary. In addition, this lifestyle also includes a network of new friends, the intimacy of community-living, and a rediscovered sense of independence.

Depending on the community, some services may be included in the purchase price or rental fees. Other communities offer an "ala-carte" approach, where fees are charged only for services used during a particular time frame. Many communities offer a combination of these basic fee structures. Understanding your payment options is an important part of the research as you look for the best options for your situation.
Assisted Living
Should your loved one need more help with day-to-day activities, an assisted living community may be a great fit. Depending on the resident's needs, there are a wide range of services available such as medication management, bathing aid, assistance getting in and out of bed every day, etc.
Often times, assisted living communities are structured so that as a resident's needs increase, services are available to accommodate those needs. Often times, basic services such as housekeeping, laundry, and utilities are part of the standard fees. Those fees are adjusted if and as services are added. And of course, assisted living residents are also able to participate in the community's social activity calendar and events.
Aging In Place
Aging in Place means that as we age, we have the choice of living where and how we choose. Central to that idea is that we should be able to live comfortably in one place even if our health and care needs change. This concept is one that is fostered by the most forward thinking senior living communities. As you consider options for your loved one, you'll want to be familiar with this approach and the communities that offer it.