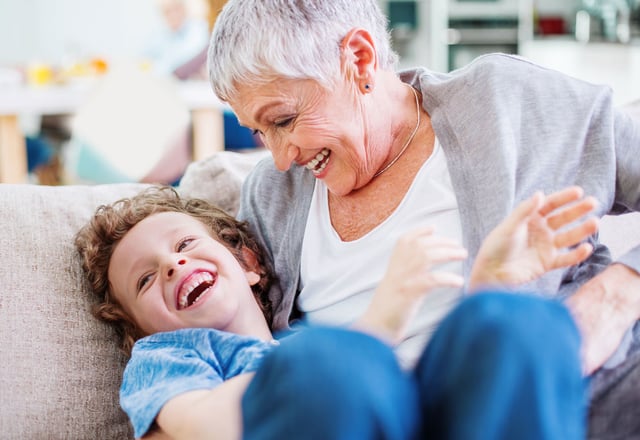 The Learning Center is a pretty special place. The preschool and children's day care center emphasizes experiential learning, complete with a "tree house library" and "tug boat computer lab." The kids say it's "just like Disney World," but that's not just what makes it special. Located at The Palms of Largo senior living campus in Florida, The Learning Center also emphasizes intergenerational learning and friendship.
Intergenerational Interaction
At the Center, the kids interact with seniors from the community each day. They're accustomed to seeing many of their "grandfriends" using walkers, canes, or wheelchairs.
That gives teachers the opportunity to explain what those devices are for and how they help. It lets the kids know that there's nothing to be afraid of or uncomfortable about aging or disabilities. It also reassures them that their older friends are being well cared for and loved.
The seniors, for their parts, have the joy of visiting and working with youngsters. They're able to help with reading or other academic subjects, as well as join in with any number of play activities.It's a wonderful way for the generations to interact and learn from each other.
"I know these residents are making bonds with these children," says Margie, Director of Volunteer Services at The Palms.
The Story of Mr. Bill
The Learning Center opened in 1996 and now services 100 kids. Yet the link between children and seniors is best illustrated by the story of Mr. Bill.
Bill volunteered regularly at the Learning Center. He had been going weekly for some time when a conflict with a family event cause him to miss a day.That didn't sit well with the kids, according to Margie.
"They missed him so terribly that when he came back, they said, 'Oh, Mr. Bill we thought you got fired!' They were really broken up."
It's a sweet story that emphasizes the value and importance of the type of intergenerational programs that senior living communities like The Goodman Group provide.
By the way, Bill wasn't fired. He's still volunteering and even gets to spend time with his own grandchildren who attend The Learning Center.
Seniors' families are also able to get involved. The center sponsors a multi-cultural fair, art shows, and other community events that support and foster the intergenerational philosophy of the community.