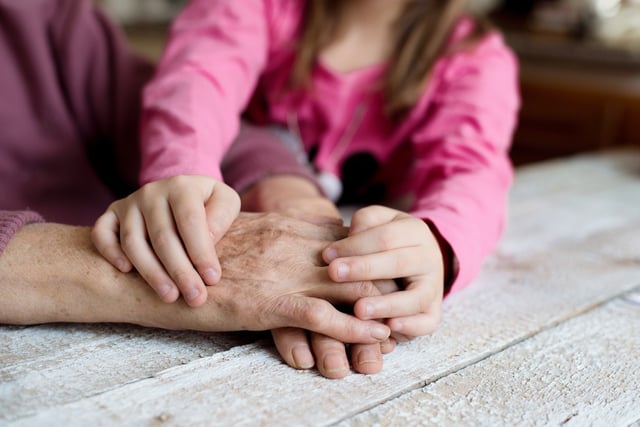 Picture a popular play, presented by actors younger than eight and older than eighty. Fill the audience with their friends, family and the rest of the community and you have the unique learning experience that is an intergenerational theatre program.
"It's really about the relationships that form between the residents and the children from the community," says Denise, Director of Intergenerational Programs for The Goodman Group.
The idea for an intergenerational theatre program started eleven years ago at The Commons on Marice, a senior living community in Eagan, Minnesota. "The program was so successful that we wanted a way to bring it to our other communities, so we approached the Missoula Children's Theatre and asked them if they would be interested in teaming up with us to start an intergenerational theatre program," says Denise.
A Look at the Missoula Children's Theatre Partnership
In its third year now, the Missoula Children's Theatre visits Goodman Group managed communities across the country and performs shows that involve both the senior living residents and children from that community. Each location performs a different show. Recent plays include the Tortoise and the Hare, Treasure Island, and Betty Lou and the Beast.
"During auditions, we see what the residents are able to do, but also talk with them about what kind of part they want," says Denise. "Do they want a big or small part? Do they want to assist the director or set crew, or do they simply want to hand out programs? They don't necessarily have to be part of the play to have an important role in the program."
While some residents may have acting or drama experience, many are just looking to try something new and different. "That's one of the reasons why they don't have to learn their lines. We let them carry their scripts," says Denise. "It's about being able to join in on a community activity."
Tabby, Executive Director at The Residence at Timber Pines, a senior living community in Spring Hill, Florida says that the residents become very involved in their roles. "One of the residents was telling me that he has a sore throat from all the growling he was doing as the beast in Betty Lou and the Beast, a take on Beauty and the Beast," says Tabby laughing.
Each resident is paired with a child from the community who helps them with their lines and performs the same role. The program is designed to include up to 65 cast members. After rehearsals, the group performs two shows for an audience.
Intergenerational Bonding
"I will tell you that it is amazing to watch the bonding that occurs," says Tabby.
One resident with dementia formed a particularly strong relationship with two shy seven-year-old twin girls. "When they got paired with this resident, they immediately bonded with her," Tabby reminisces. "She became a grandma to them and they would not let go of her leg. She was on cloud nine."
"Some of these kids may only see their grandparents at holidays, so it's a win-win for everyone," says Denise. One of her favorite examples is a pair of teenage boys who were originally forced to participate by their parents, but really grew to love it and had a great time. They formed a really close relationship with one resident in particular.
Another resident and program participant had never married or had children. She formed an incredible bond with one little boy. If she was late for rehearsal, the boy would immediately begin to worry and look for her. "She loved having that boy care for her when she had no other family," says Denise.
Finding Purpose Through Participation
When asked what the specific benefits of this program are, Denise immediately responds with,"Purpose. It's really about the residents having a purpose and giving them something to look forward to and a community to be part of."
"We had a resident with Parkinson's participate in the theatre program," says Denise. Some days this resident would be able to walk around and appear fine, and the next day she would be in a wheelchair. "For her, it was not only being part of the program, but also sharing and educating the kids about her disease and the aging process. She took it upon herself."
Through intergenerational programs, like the Missoula Children's Theatre Partnership, seniors and children are able to teach and learn from each other while forming fun, meaningful relationships.
Changing Perspectives on Aging
As part of the program, we ask the kids participating their perceptions on seniors and aging. Do you think seniors are happy or sad, healthy or sick? We ask the same set of questions at the beginning of rehearsals and then again after the performances. "We are seeing a lot of positive changes in their perspectives," says Denise. "It's very cool to see how different they answer."
"It's the forming of a family that happens with this group at the end."