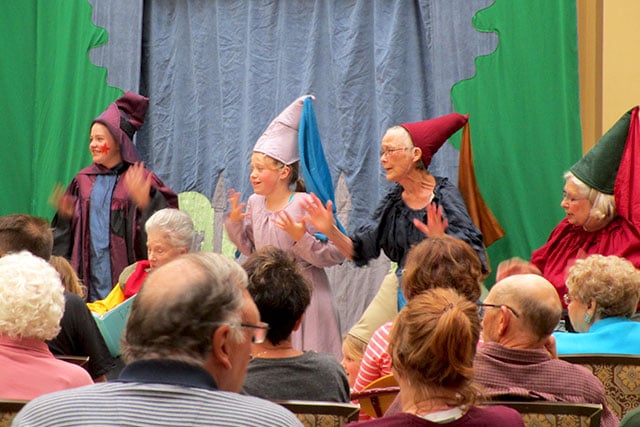 Part of the magic of the theater is that a really great play will appeal to all ages. And we have proof that a really great play program will, as well.
Every year, The Inn on Westport, a senior living community in Sioux Falls, South Dakota, works with the Missoula Children's Theater to perform a play with an intergenerational cast. Children and residents sign up to perform, support, and attend the play, and the results really are magical.
"It's just amazing to watch the relationships build," says Kathy, life enrichment director at The Inn on Westport. "It gives the kids a sense of purpose. It gives the residents a sense of purpose. It's just a great week for everyone."
The kids range in age from Kindergarten to Senior High, while some of the seniors are in their 80s and 90s.
"We have some in walkers and wheelchairs," Kathy says. "They enjoy themselves so much. It's very popular to participate and to attend."
Theater Week
This is the fifth straight year for the weeklong program. Past productions include Aladdin, Treasure Island, Rapunzel, and King Arthur's Quest, and this year's production of Pinocchio was as popular as ever. Seven residents, 27 kids, and two staff members performed in the play, while other residents volunteered as ushers, greeters, and took donations at the performances.
Every year, Theater Week follows a familiar script that builds up to a wonderful ending.
"On Monday at 1 p.m., we meet the directors and the cast all show up for auditions. From 1 to 3 p.m. they sing, play games, and a variety of other things, and by 3 p.m., the directors assign parts," Kathy explains. "And even though it happens so quickly, everybody seems to get the right part."
From there, everybody gets a rehearsal schedule and lines to learn. And by Friday night, they're ready to perform.
"We have a performance on Friday night, another performance on Saturday, and then the after-party'" she notes. "By Friday, it's an amazing production. It really is."
Blending the Generations
The students must learn their lines by heart, but the residents can carry cue cards or a script as needed. And that's where the intergenerational magic starts to happen.
"A lot of times when they are on stage, the students will help them with lines. Or the student will push the wheelchair. The students just naturally help their elders," Kathy says. "It's just amazing to watch as the week goes on. We see kids come in on the first day who are so shy, or residents who are shy, and by the end of the week they're leading their partner."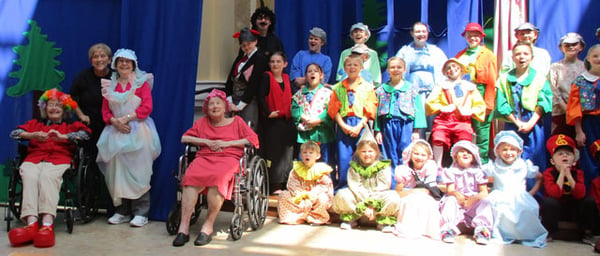 After five years, it has become clear to her that mixing generations has amazing benefits, and working together on a play is the perfect platform.
"At the beginning of the week, we'll have snack time and they're all separate, but by the pizza party, the kids and seniors are all eating together," she says. "Just watching it happen over the course of the week is amazing, and it always happens. There has not been a year that it hasn't."
Encore, Encore!
Kathy says the bond between students and residents rarely ends at that pizza party. "We've had some kids come back and volunteer throughout the school year," she says. "They'll visit the residents on a regular basis, or even call bingo. That's always fun."
Other students come back to perform in the play again, and some even bring friends with them. And Kathy says the same holds true with residents.
"We have a grandma who has done it all five years, always with at least one of her granddaughters. Another resident has done four, and we've also got some three-peats."
In fact, staff members, resident volunteers, and spectators also keep coming back for more. "It's one of the highlights of our year," she says.
Making the Magic Happen
Similar intergenerational play programs are just as successful at some of the other senior living communities managed by The Goodman Group:
The Inn at Westport also has many other intergenerational programs throughout the year, some of them in partnership with Sioux Falls Christian Schools.
"There's just so much you can do from group activities to one-to-ones," Kathy says. "We have had success with memory care and physical disabilities and independent living residents, all across the board."
For anybody looking to capture that magic, she has one suggestion: "Just do it. Don't be afraid to try something out, because you'll be able to get a lot of feedback. You'll find out what works in your community."
In fact, all of the support you'll get is one of the many benefits of bringing the generations together.
"They're not that hard to do," Kathy confides."They'll pretty much run themselves because the kids will run the program once you get it started."