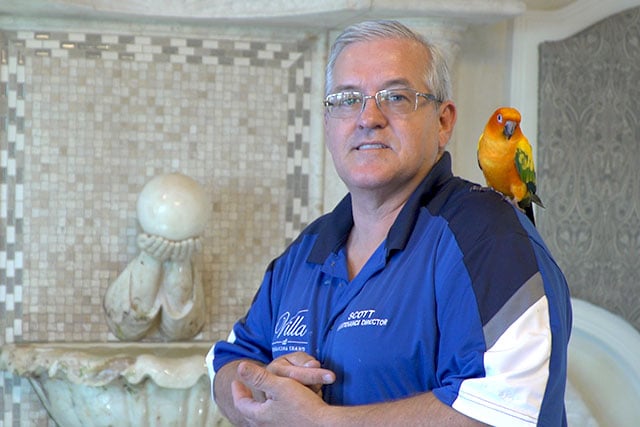 It's pretty common to see friendships form in our managed senior living communities, but we never expected one quite like this — an employee and the community bird.
Scott and Mango have been turning heads at Villa at Terracina Grand for years. One is a maintenance director, the other a sun conure. Their friendship is one that is unique in a memory care community. And their story is as cute as it sounds.
A Loyal Employee
Scott, an eight-year employee of The Goodman Group, has worked at Villa at Terracina Grand in Naples, Florida, for three years. He spent the previous five years at another member of the Terracina Senior Living campus, Terracina Grand. As maintenance director, Scott oversees all operations and ensures the community (inside and out) as well as its residents are cared for.
His favorite part about the job is talking with residents. "Their lives are just amazing," he says. "One resident, George, played pro baseball for the Brooklyn Dodgers. Another resident played basketball at the University of Connecticut in the '40s. That's what keeps you excited and wanting to do more for them. It's more than a job. My heart's for them."
He treasures his job so much, in fact, that he often chooses to work seven days per week. When Mango arrived, it only made his job more enjoyable.
An Unlikely Friendship
The community has not one, but two birds — Mango and Gino, a green cheek conure.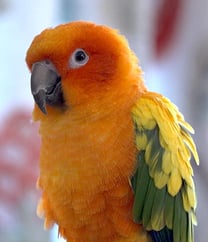 Conures, you see, are social birds. They enjoy being around people and often squawk when they cannot be. Scott started caring for the birds when the responsibilities of other staff members changed. He read a book about conure birds and learned everything he could about his new friends.
Every morning, Scott feeds the birds and gives them each an almond as a treat. He provides fresh water and makes sure the cage is clean. Once the cage doors are opened at 8 a.m., they don't close until Scott heads home. This allows Mango and Gino to perch on residents' shoulders. "Penny, a resident here, calls Mango her baby," he says. But as soon as Mango hears Scott's voice he begins squawking.
Mango is especially attached to Scott, growing irritated if someone tries to pet him or offer a shoulder while perched on Scott's. "If I'm around, he won't go to anyone else. That's his domain," he says. "Mango likes climbing and hanging. He'll go around on my shoulder and go down in my shirt. Sometimes he comes up where my neck is and hangs out. He looks like a tie when he does that." Scott typically makes his rounds all while Mango is perched on his shoulder. When Scott does something he doesn't want Mango to get into, he puts him on his cart.
"He makes my job better by just being himself," Scott says.
On occasion, Mango and Gino go home with Scott during his lunch hour or spend time at his house on a Sunday. "I'll take Mango home and we sit outside with him and he listens to other birds," he says. "Sometimes, I'll get them ice cream." Scott even takes the birds to the vet when needed.
Looking at them now, it's crazy to think their friendship happened by chance. We love having Scott, Mango, and Gino entertaining and caring for our residents. And we're happy to share their story.