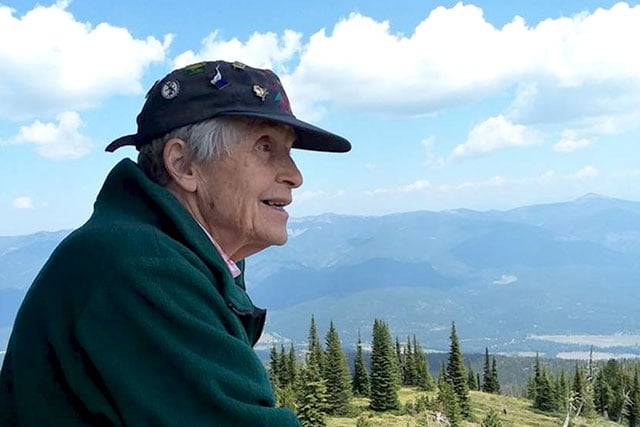 It's nearly dusk. Virginia sits atop a stool in her 15-by-15-foot tower as a storm rolls through the Lolo National Forest in the heart of Montana's lightning country. A glass insulator separates her body from the metal stool, a precautionary measure in case the lightning rod on top of her lookout tower fails. As a seasoned fire lookout, Virginia doesn't think twice about it. It's her duty to stay in the tower and keep Stark Mountain safe.
Virginia, or Ginny as her family and senior living community lovingly call her, is now an 88-year-old memory care resident at The Village Senior Residence in Missoula, Montana. Virginia has become one of our most well-known residents at The Village and we're happy to share her story with the help of her sister Roberta "Bert" and friend Connie.
Always Interested in Nature
Virginia was born in the Chicago area in 1930. When she was three years old, her parents moved to New Jersey. Bert, born seven years later, says she wasn't very close with her sister until she was in college, given the age gap. But she remembers Virginia's love for the outdoors. "She was always the nature girl," she says. "Always the unpretentious one and not at all girly. She was the one that would collect butterflies, bugs, and flowers. From early in her life, she'd like to watch the birds, too."
Education and Inequality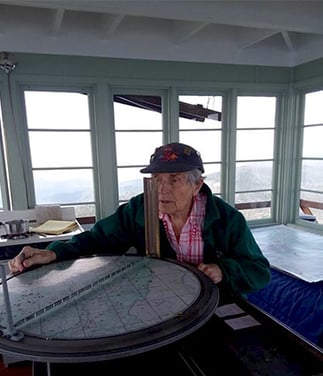 Virginia inside Stark Mountain lookout tower, northwest of Missoula, MT
Virginia attended the University of Vermont, where she graduated with a degree in zoology. She went on to work at Princeton University as a research assistant professor before accepting a position in 1956 in the natural history department at the University of Montana. After reading an article about fire lookouts in National Geographic as a teenager, it was her dream to become one. But discrimination prohibited her from doing so. "It was something that had always interested her," Bert says. "Back when there was discrimination, a woman wasn't allowed on a lookout tower alone."
In 1964, when the anti-discrimination laws went into effect, prohibiting sex discrimination in the workplace, she immediately applied for the fire lookout position on Stark Mountain. And so began a lifelong career in the Mountains. "She wanted an opportunity to study nature firsthand," Bert says.
A Dangerous but Fulfilling Job
Virginia, who never married or had children, devoted her life to nature. Each summer, typically in late June, she would move her necessary belongings from her home in nearby Missoula to her tower on top of Stark Mountain, which stood 20 feet above the 7,100-foot tall mountain.
She spent 24 hours per day for two weeks in the tower before taking a mandatory two-day break. Then, it was back to the tower. She repeated this cycle throughout fire season, which typically lasted until September or October.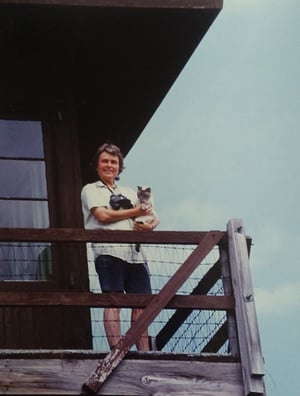 August 8, 1989: Virginia and her cat, Paleface
Throughout the day, at certain intervals of time, Virginia walked the perimeter of her tower looking for flames or smoke. At night, there was no need to scan unless there was a thunderstorm. When she spotted a potential fire, she radioed to the Ninemile Ranger Station and guided them to the exact location using an Osborne Fire Finder. The firefinder, a map of everything visible from the tower, allowed Virginia to find the fire by looking through a set of crosshairs and pinpointing nearby coordinates.
"She loved this job because she loved nature," Bert says. "She was always studying something whether it was the birds, mountain lions, or flowers. She just loved that."
One might think it got lonely in the tower, but Virginia had a lot of visitors. "She used to say she had one and a half visitors per day," Bert says with a laugh. As one of the only lookout towers with a road leading to it (albeit a narrow and dangerous road), it was easy for her family and friends to visit. One of those visitors was Connie, a friend she met at a Montana Native Plant Society field trip. "I'm also a nature lover," Connie says. "We spent a lot of time looking at native wildflowers and birds on the mountain.
"I think she just loved being outdoors and having all that space to herself. She was very self-sufficient, very comfortable in her own skin. She wasn't afraid of being alone."
Virginia spent 39 of her 40 summers as a fire lookout on Stark Mountain. (One year she and a lookout in Oregon traded towers.) She became a legend on that mountain. Everyone knew her by name including the highway patrol and truckers because she provided the daily weather report over the radio. Over the years, she was featured in several published articles including National Geographic, the magazine that sparked her interest in the job to begin with.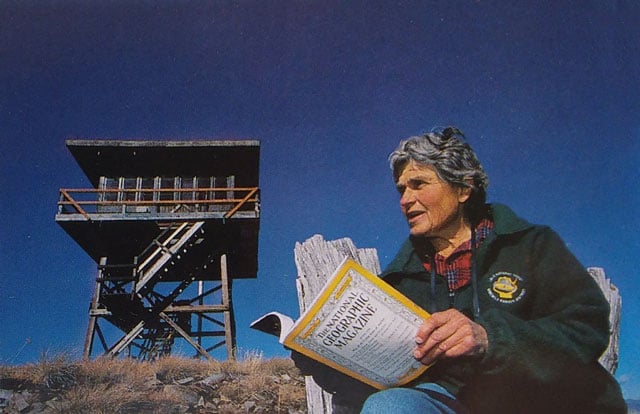 Virginia reading her favorite magazine in a photo shoot for National Geographic
More Than a Fire Lookout
Although she's most well-known for her longtime career as a Montanan fire lookout, Virginia had other talents and hobbies, too. She loved painting, photography, and jigsaw puzzles. They provided easy ways to pass the time while in her tower. When she wasn't in her tower, she enjoyed traveling — Europe, Scandinavia, Australia, New Zealand, and Alaska are only a few that are on her list.
Moving into Memory Care
After a life of adventure, Virginia moved into assisted living at The Village Senior Residence in 2014. When she began showing signs of memory loss, she moved to the memory care neighborhood at the senior living community. But she still loves to be outdoors. "She is a very active participant and enjoys anything on the more active side (ball toss, horseshoes, corn hole)," says Gena Loya, life enrichment coordinator at The Village Senior Residence. She also enjoys walking (outdoors preferably, as she likes the fresh air and seeing the flowers and birds).
Virginia has even become somewhat of a local celebrity in her senior community. "Often times, residents and their families recognize her from their times hiking in the Lolo National Forest and seeing her friendly face on the top of that lookout tower," Gena says.
Although her memory isn't in tip-top shape, remind her of her time in the mountains and she'll tell you stories of her experience. Connie even took her to a fire lookout reunion in June, where she lit up all over again at the sight of her tower. "These are very fond memories for her but they continue to become difficult for her to articulate," Gena says.
We're honored to care for residents like Virginia, a strong woman who paved her own path to success and inspired others to do the same. She certainly inspires us each day, too. To read past publications about Virginia, click here or here.