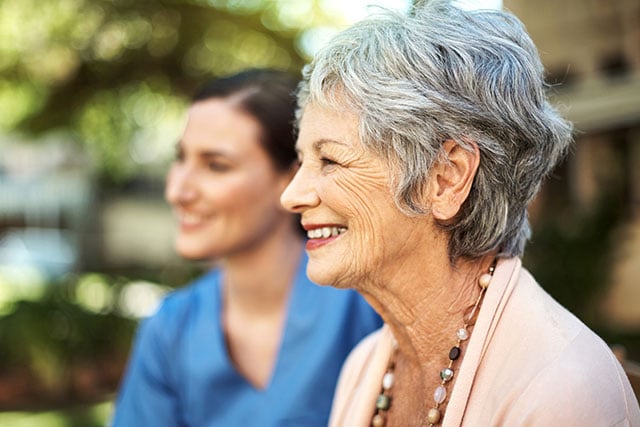 "It's our biggest week to celebrate residents, staff members, and our family members," says Tammy, life enrichment director at Regal Palms, a senior living community in Largo, Florida. "It's the biggest week of the year besides holidays, and I have residents knocking on my door asking about the event."
"What is she talking about?" you ask. National Assisted Living Week, of course! And at The Goodman Group, we celebrate big. Here's what some of our communities have in store for this year's celebration.
What is National Assisted Living Week?
National Assisted Living Week is one week out of the year reserved to celebrate the residents, their loved ones, staff, and volunteers who make up extended senior living communities. Established by the National Center for Assisted Living (NCAL) in 1995, the week "encourages assisted living communities around the country to offer a variety of events and activities to celebrate the individuals they serve, as well as to help educate members of the public about this distinctive aspect of long-term care."
Each year NCAL selects a theme for the weekly celebration. This year, Capture the Moment, "hopes to inspire residents to realize their dreams and seize the day. Simultaneously, the theme also supports reflection, as residents may look back on the pivotal moments in their lives."
Celebrations at The Goodman Group
At The Goodman Group, we can't wait for National Assisted Living Week, and neither can our residents. Here's a look into the festivities for just one of our communities, Regal Palms.
Sunday, Sept. 9 is when the festivities begin. It is also Grandparents Day and Rashashana begins at sunset. There will be a grandparents brunch, a harpist, and a professional photographer to help "capture the moments" of the day. They'll cap off the evening with a Gospel hour.
Monday brings a '70s theme with disco music, a screening of Saturday Night Fever, and even '70s-style make-overs for the evening's disco ball.
Tuesday is Patriot Day, with a community celebration of local first responders. As thanks for their service, Regal Palms residents deliver cookies to local firehouses and police departments. This marks the 11th year of this event.
Wednesday is Homecoming complete with the crowning of a king and queen, professional dancers to entertain, and a celebration of the community's longest-married couples.
Thursday is set aside for staff and family appreciation. It's the first time Regal Palms will host something like this during National Assisted Living Week. Staff will wear T-shirts that say "I'm Appreciated." They'll have food trucks, games, and raffles — a carnival theme to show how much staff and family mean to residents and the community.
Friday caps off the week with the Palm's 4th annual Variety Show. Everyone showcases their talent — staff and residents alike.
Customized to Every Community
Every community is different and every community celebrates the week in different ways. At Inn on Westport in Sioux Falls, South Dakota, the week's activities will include a poker run, celebrity golf, special happy hours, and ice cream treats.
But the real focus this year is on the theme, Capture the Moment, with an activity called Picture It, where residents take pictures throughout the week to be displayed throughout the community. "We'll do that every day," says Kathy, life enrichment director.
The Importance of Celebration
Both Tammy and Kathy stressed how important it is for residents, staff, and the larger community to celebrate. "I just love it," Tammy says. "I love that the residents have so much fun."
But capturing the moment isn't only about the fun, the laughter, the special events or meals. "It's also to remind us to stop and recognize ourselves and the residents and to celebrate the industry. To remind ourselves what we're here for and continue to do a good job," Kathy says.
Be sure to join your neighbors, friends, and loved ones this year at a National Assisted Living Week celebration in your area.