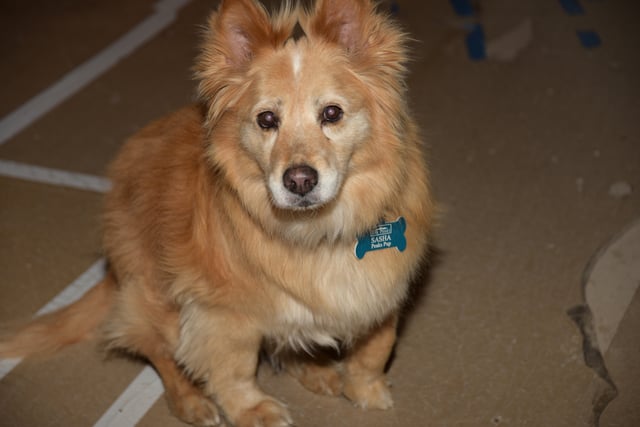 During National Pet Month, we reflect on the fact that caring for animals is good for our health. We can all attest to the mood lifting and stress relieving benefits of having a pet around. Beyond the countless benefits animals have for senior residents living within our managed communities, our team members equally benefit.
Adopted Community Dog
Sasha, a Collie Mix, was rescued from a local shelter by Leah Veschio, Director of Community Outreach at The Peaks Senior Living Community in Flagstaff, Arizona. Sasha, the newest resident at The Peaks, is available anytime the residents may need some canine attention. Because of her calm demeanor, and the fact that she too is a senior, Leah knew instantly that Sasha would be a perfect fit for their community.
Sasha has developed incredible bonds with both staff and residents in the community. "When she arrived, she instantly took to an individual receiving rehabilitation who was struggling with her exercises," said Leah. "Sasha would lay on the bed to give the woman comfort as she went through her exercises."
Sasha has fully embraced the community life visiting residents in different areas of the building daily. "This is a dog they can play with, but they don't have to worry about providing full care or responsibility," said Leah. "Residents sign up to spend time with her. They ask if she can watch a movie with them. Sasha has exceeded our expectations."
Sasha has also been beneficial for the employee's emotional and physical welfare. "We are getting outside more by taking turns walking her. She has been really comforting," said Leah.
The Impact of Pets on Staff
At The Goodman Group, we are so interested in the benefits pets can offer to our lives that we sponsored the study: The Role of an Animal-Assisted Interactions (AAI) Program as a Means of Wellbeing Support for Staff at a Senior Living Facility. We found that staff participants in the study rated the impact of the PALS Program (Partnering with Animals to Lift Spirits) on their own wellbeing as a 4.4 out of 5. The majority of the participants reported that the PALS program brought enjoyment, happiness, and stimulation. Staff said they look forward to hosting the PALS program each week and received enjoyment from watching the residents with the animals. "If they're happy, I'm happy," one staff member said.