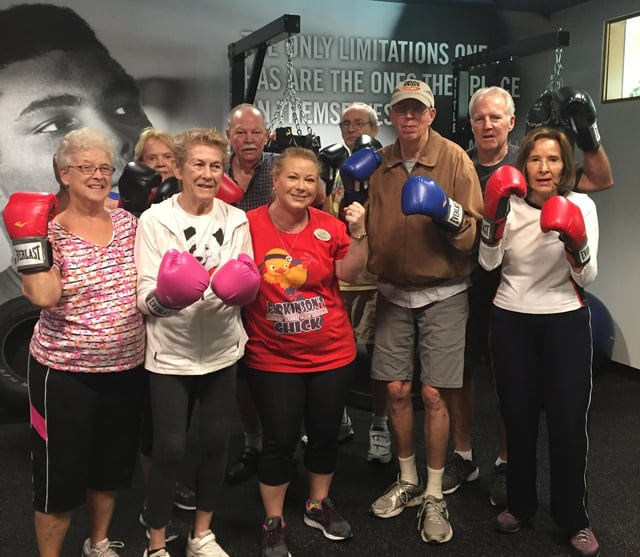 It may seem odd or even counter-intuitive to hear that someone with Parkinson's disease is spending a lot of time at a boxing gym. Yet that's exactly what members of the Rock Steady Boxing program do several times a week at Cypress Palms, an assisted living community at the Palms of Largo in Florida.
It's a unique fitness program that creates physical exercise and social bonds to help people with Parkinson's feel stronger, steadier, and more supported.
How Rock Steady Boxing Started
The non-contact, boxing-style fitness program started 11 years ago when Scott, a state prosecutor from Indianapolis, was diagnosed with early onset Parkinson's. Scott lost muscle control rather quickly, and soon couldn't even write his own name. At the suggestion of a friend, he went to the gym just to "hit some bags."
Before long, Scott started feeling better and then he regained the ability to write. He knew he was on to something. He partnered with Kristy Rose Follmer, a professional boxer. Together they created what became Rock Steady Boxing, a unique program that has spread worldwide.
Rock Steady Boxing at The Palms of Largo
"The program is designed specifically for people with Parkinson's disease," says Leah, Parkinson's program director and boxing coach at The Palms.
"We're an affiliate [of Rock Steady Boxing]. I found out about it and was the driving vehicle to getting it here for The Goodman Group," Leah says. The program at The Palms started in March of 2016 and has really taken off.
"It's non-contact, so it's boxing training," she explains. "We work on different exercises to help improve balance, hand-eye coordination, improve strength, and help with muscle rigidity."
Individual Attention
The program has three levels: beginning, intermediate, and advanced.
"It's a very individualized program because everyone's physical abilities are different. We have varying class schedules based on where [a participant] is at when they start the program, " Leah says.
Participants can progress from beginning to intermediate to advanced as their skills improve. However, what's interesting is that many boxers enjoy the company of their first class level so much that they prefer to stay with that group rather than advance. That shows just how powerful the bonds between participants become.
Finding Support Through Boxing
"Some [participants] don't want to get promoted because they've formed such bonds. The social and camaraderie aspects of this are also crucial to the process," Leah explains.
Because the boxers all have Parkinson's, they can understand and support each other's challenges in ways others can't. "We have a questionnaire every six months to see how they're doing. One of the questions we ask is how important the social aspect of the program is," she explains. "Everyone agrees that's one of the driving forces that not only helps in the beginning, but keeps them coming back."
To date, Leah and Head Coach Ian have worked with boxers from 56- to 92-years-old.
You can learn more about the program and participants on the Rock Steady Boxing at The Palms of Largo Facebook page, Rock Steady Boxing at Inn on Westport Facebook page and this YouTube video.