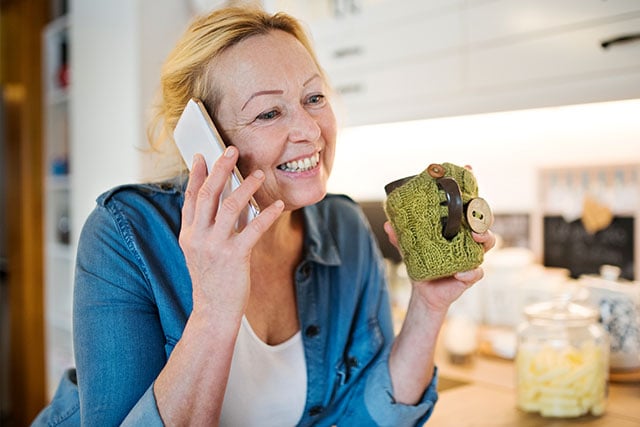 Transitioning a loved one into a senior living community can be an exciting time. It can also be a very busy and even confusing time as you and your loved one become familiar with their new home, a new routine, and new caregivers.
The best way to ease the change is to have open lines of communication with the community's staff and residents. But who should you talk to, what types of information needs to be shared, and why is it important?
Here's everything you need to know about establishing communication with your loved one's senior living community.
WHO SHOULD YOU KNOW?
At your loved one's senior living community, there are some key people that you definitely want to get to know. These individuals will vary by community, but they often include the administrator/executive director, social workers, the life enrichment team, day-to-day care staff, and other caregivers such as physical or speech therapists. Take time to understand their roles and how they will interact with your loved one.
LET THEM GET TO KNOW YOU
It's not just a matter of you knowing them. It's also important that they know who you are, your relationship to your loved one, and specific needs that you or your loved one have. Don't hesitate to make those needs known as they come up. If the staff isn't aware of something, they can't help. This is especially important when transitioning to senior living.
SHARE YOUR CONTACT INFORMATION
It seems basic, but it's important the senior community has more than your home and cell numbers. Work with the staff to make a complete list. Your list should include:
Home, work and cell numbers plus email addresses of you and other family members
Phone numbers and email addresses of your trusted neighbors and friends, and your loved one's closest friend
Contact info for your loved one's doctors
And be sure to save key phone numbers of those caring for your loved one at the senior living community. In fact, you may even want to add them to your speed dial.
ATTEND COMMUNITY MEALS
Most communities sponsor luncheons for new residents to meet their neighbors and community staff. Family members and other loved ones are usually encouraged to attend. It's a great opportunity to meet your loved one's neighbors and get better acquainted with the staff in a relaxed atmosphere. Most communities also welcome family and loved ones to regular meals. Check with the staff for details.
SHARE YOUR FAMILY'S VISITING SCHEDULE
Many families and friends work out a regular schedule to visit their loved ones in senior communities. Share those plans with community representatives. It will help them get to know you and your family and plan your loved one's schedule to match their visitors' schedules.
SHARE YOUR LOVED ONE'S INTERESTS AND HOBBIES
Let the community staff know what your loved one enjoys. Maybe it's cards, playing the piano, socializing, walking, watching movies, or arts and crafts. If the staff knows your loved one's interests and hobbies, they can suggest programs and events that are most likely to spark their interest.
USE SOCIAL MEDIA TO STAY IN TOUCH
Most senior communities regularly maintain Facebook pages that can keep you up-to-date on community activities and announcements. "Like" or follow their social media accounts to know what's going on at the community. You can also sign up for emails, newsletters, blogs, and alerts if your community offers them. The more you know about your loved one's community, the more connected you'll feel to them and the more you can encourage them to participate in activities.
TAKE NOTES
As you and your loved one are adjusting to their new community, keep a small notebook with you so you can jot down new information as you get it. For example, when you visit, you can record things like the name of a new caregiver, a new class that's being offered, a list of items your loved one is requesting, and any questions you may have. This will be a handy record for you, as well as the rest of your family, as you coordinate your loved one's visits and care.
KEEP THE LINES OF COMMUNICATION OPEN
Senior communities are experts at providing the information and resources families need to make decisions and adjust to new living circumstances. They'll offer welcome packets, resident and family handbooks, resource lists, important contact numbers, and more before your loved one even moves in. And they're always open to questions, so don't hesitate to ask if you need something.
Remember, the more you know your loved one's community and the more they know you, the easier it is to care for your loved one together.