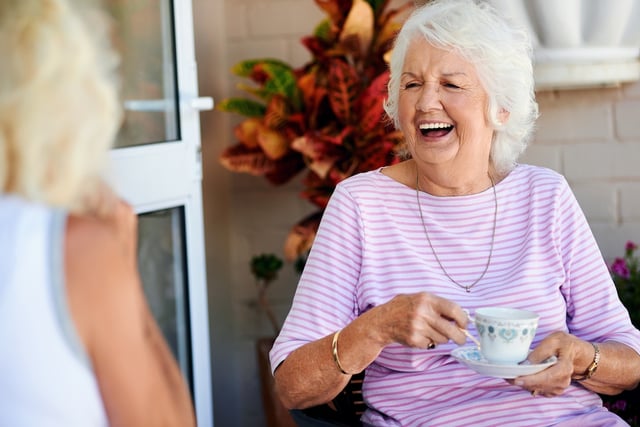 Friendships help us celebrate the good times in life and support us through the challenges. As our kids move out and start families of their own, our ties with the friends in our lives become even more important. And while it is all too easy to become isolated within your own home, senior living communities offer many opportunities for new friendships to blossom.
"Often times, it's tough to move and start over at the age of 80," said Gretta, creator of Grandma's Round Table. "But at senior communities, everyone is looking for the same thing – new friends. They may have lost their old friends or their spouses and are really looking forward to meeting new people."
Opportunity for Friendship in Senior Living
When we transition into senior living communities, we are greeted with a new opportunity to build relationships. Clare saw her mother Ginny struggling with isolation when living on her own. After helping Ginny move into Terracina Grand, a senior living community in Naples, Florida, she saw her mom blossom. "They all have common interests and common activities," said Clare said.
In fact, Clare recommends that seniors get involved in as activities as soon as possible after moving into a community. "There is an adjustment period, but just jump in and experience it all because you never know what the next day holds for you," said Clare. She said her mom has become so involved that she often won't hear from her for a few days because her social calendar is so full!
Making New Friends
"Friendships really contribute to what I think our definition for safety is," said Hutch, Director of Spirituality at The Goodman Group. "Friends make life more safe," he explained. "We all want one more human relationships around us that we can trust, call on, and care for."
While making new friends can mean stepping outside of your comfort zone, introducing yourself to new people is a great way to create new relationships within your community. "Through shared daily experiences and conversations about the mountains, hills, and valleys of life, we connect to people that we have commonality with," said Hutch.
"Broaden yourself. Ask questions of people," recommends Gretta. "Compliment people and let them know you care. Be a daymaker, make their day and they'll make yours. And then, talk to them about their lives."
"We are finding that compassion for others creates an opportunity to build friendships," said Hutch. "Some residents are building stronger relationships than they have ever had in their lives."
Building Community Through Friendship
"Friendships naturally create and broaden community,"said Hutch. "Belonging to others and being included can help lift one's spirit."
Hutch has found that at the root of many senior friendships is the need to serve others. "Serving with another person is so key. Friendships and spirits seem to soar when residents are serving," he said. "Through serving another person, we find our sense of purpose and meaning."
The great thing about friendships is that they are contagious. "Observations of other friendships can stir emotions and give you a desire to have the same relationships," said Hutch. "Friendships can bring out the best in us. We have residents knocking on other residents' doors and asking them how they are doing. Our groups and activities are growing. Residents are seeing the opportunity to rediscover all the things they want to do in life."