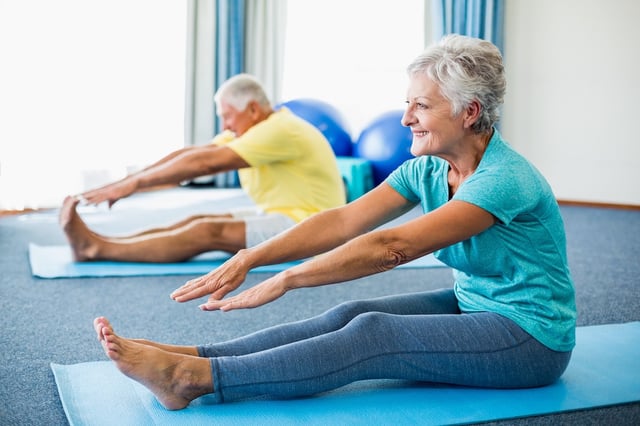 A lot of us like to start our morning with a cup of coffee. As you grab that cup o' joe (or tea or OJ), think about starting your morning with a short stretching routine as well. You may be surprised to discover how just a few minutes of stretching can jump-start your morning and support your overall health and wellness!
Why is Stretching So Important?
Stretching is crucial for healthy aging, according to Dee, The Goodman Group's National Director of Physical and Occupational Therapy. "The number one thing I would tell you as a therapist is that flexibility, once you lose it, is very hard to get back" she says. "You can always regain strength. If you get a little weaker, you can get back on a program and get stronger."
Dee explained that with the loss of flexibility, muscles can get tight and imbalanced, and that's partly why it's so difficult to regain lost flexibility. The way to maintain it, though, is through yoga and gentle stretching.
Are There Other Benefits to Stretching?
Yes! Katie, our National Director of Life Enrichment, gave us the scoop on the many benefits of regular stretching, especially through yoga. Katie pointed out that yoga can have a positive effect on stress and hypertension, which could possibly reduce the amount of medications that someone may need (always discuss with your doctor!).
In addition, studies have shown that yoga, which is a weight bearing activity, can improve bone strength and possibly slow osteoporosis. It protects joint function, builds strength and balance, and helps to prevent falls.
"The big thing we see is improved mood," Katie notes. "We have residents say, 'It sharpens my mind because I feel it's an accomplishment that I can follow these poses and breathe in synchronized movement at the same time.'" In these ways, stretching and yoga can actually add to a personal sense of confidence and accomplishment.
Why is a Morning Stretch so Important?
OK, the truth is, stretching at any time of day is good for you. It doesn't have to be in the morning. In fact, it doesn't have to be just once a day, either. Starting in the morning, however, can be a very energizing way to get your day going. Plus, it sets the tone for more activity during the day — when you start the day moving, you're more likely to keep moving and moving longer throughout the day.
Getting Started
Remember to always check with your doctor before starting any new exercise program. Once you get the OK, here are some resources for starting a personal stretching program: