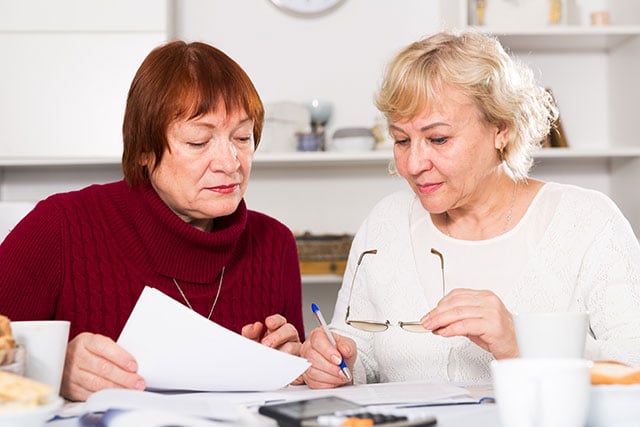 The Belmont family was shocked when Margaret, head of the family, was diagnosed with early-onset Alzheimer's while still in her 60s. Her son, David, and daughters, Peggy and Wanda, weren't sure what their next steps should be. So, they met with a senior advocate and worked out a plan for helping Margaret through all stages of her process.
The Belmonts were fortunate. They had time to plan and they made the wise decision to seek advice from professionals. Not every family has those advantages, so here are some tips on planning and sharing caregiver responsibilities for your loved ones.
Start Planning Early
Life is unpredictable, so having a plan before you need it is a good idea. Unlike the Belmonts, many families don't talk about elder care plans until an emergency arises. Then, decision-making can be more difficult because it's a more emotional time.
Joan, director of clinical services at Able Palms Home & Health Care in Largo, Florida, advises having a family meeting early on. "If you have a relaxed conversation about caregiving long before it's needed, it won't be as difficult," she says. When you plan early, you can include your loved one's wishes. "Ask mom what she wants. Then, by the time these things happen, you'll know what to do," Joan adds.
As part of early planning, Joan strongly recommends having an advanced directive. "These days, almost any doctor, hospital, or other facility will ask if you have one, and having one takes a lot of pressure off the family to make decisions," she says. She also encourages every family member to have a power of attorney.
Leverage Skills and Interests
Everyone has different strengths and capabilities. Joan advises identifying and leveraging those skills when creating a care plan.
In the case of the Belmonts, David was a financial advisor, so it was natural for him to handle any of the financial aspects of Margaret's care plan. Peggy, a nurse, could take Margaret to all her doctor appointments and help the family understand medical diagnoses and treatment options. In the meantime, Wanda started researching senior living options in case Margaret might have to move in the future.
Keep the Lines of Communication Open
Different opinions and viewpoints are natural, but they don't need to be a source of conflict.
Some families have regular conversations to air any differences or frustrations.
"Even as adults, we fall back onto coping mechanisms we had as teens, which can often be very emotional, especially when dealing with a loved one's care," she says. "Slow the emotional responses down and realize there are other choices you can make."
She also recommends focusing conversations on what's best for your loved one as the deciding factor in any disagreements.
Flexibility, Patience, and Support
Caregiving can be demanding and every family member will respond differently to its stresses. To help minimize the stress, it's important to have patience with each other, with yourself, and with your loved one.
Flexibility is also key. Your loved one's circumstances can change quickly and you may need to change your care plan accordingly. Rely on the support of your loved one's medical staff to help you navigate those changes. Don't overlook other resources such as senior advocates, social workers, support groups, and clergy.
Above all, be supportive of each other. Despite its emotional nature, sharing caregiving responsibilities can actually help bring your family closer together.