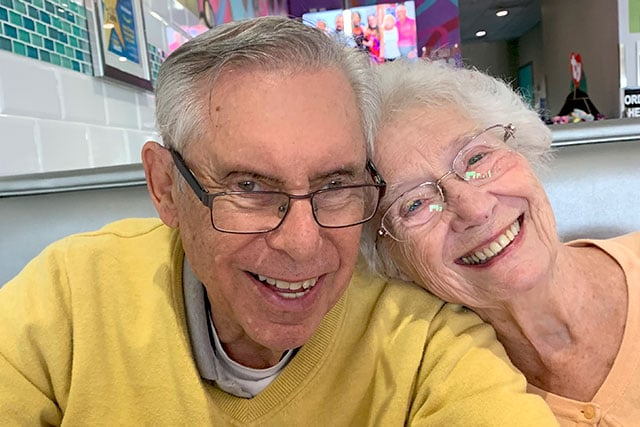 Stan and Marilyn have known each other for more than 50 years, and today, they're an inseparable couple living at Villa at Terracina Grand (Villa) in Naples, Florida. But it wasn't always that way. In fact, before moving to Villa, Stan and Marilyn were just friends.
We want to share their story because it's such a unique example of a long-lasting friendship.
Early Friendships
Marilyn grew up in Springfield, Massachusetts, where she befriended a girl named Judy in middle school. The two became fast friends and created a bond that would last decades.
After high school, Marilyn and her boyfriend Gerry attended American International College in their hometown. An hour-and-a-half drive east, in Boston, Judy was attending Simmons University, which was an all-female school at the time. Soon, Judy met Stan, who grew up in Teaneck, New Jersey, and was attending nearby Harvard Business School.
Both couples became friends and often went on double dates together. That's when Marilyn first met Stan.
Marilyn and Gerry got married in 1955, and Stan and Judy followed a year later. Despite not always living near one another, Marilyn and Judy's friendship remained, and they kept in touch through phone calls.
Bonded Families
Stan and Judy went on to have two daughters — Cynthia and Andrea. Marilyn and Gerry had three kids — Lydia, Peter, and David. Over the years, the families would get together for special occasions or whenever Stan and Judy brought the kids to visit their grandparents in Springfield. "We probably saw Marilyn and Gerry a half dozen times a year," Andrea says.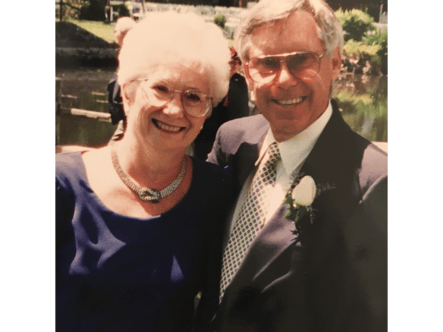 Now, it's comforting to the families that their parents have each other. "There was always warmth between the two families," she says. "We're very thankful that they've got each other."
Moving to Naples
Judy died of cancer in 1991. She was only 56 years old. After Judy's death, Stan decided to move to Naples, Florida, where he eventually moved into Villa at Terracina Grand, a memory care community managed by The Goodman Group
Coincidentally, Marilyn and Gerry were also living in Naples, Florida. Unfortunately, Gerry also died of cancer in 2010. Over the next several years, Marilyn and Stan would meet for lunch, but there was nothing more than friendship there. That was until Marilyn moved to Villa, too. When the time came for Marilyn to move into memory care, her family knew Villa was a great community based on what Andrea said, and they knew she would have a friend if she moved there.
Instant Connection
From the day Marilyn moved in, she and Stan have been inseparable. "They love to go out together and have ice cream," David says. "They love sitting in the garden together, holding hands and talking for hours."
"They like to listen to music," Andrea adds. "They like to watch movies and sports. Whenever we're down visiting, they love to go out to eat.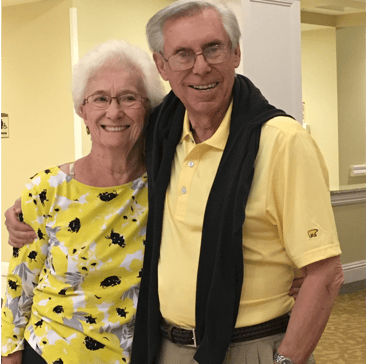 Marilyn and Stan are both living with dementia. Each morning, Stan forgets that Marilyn lives in his community. Regardless, each time they see each other, they rekindle those feelings.
"They definitely enjoy being together," Andrea says. "And they are better together. Marilyn is a lot happier and my dad is much more social."
Family's Reaction
As you can imagine, it was a little strange for Stan and Marilyn's family when they first learned of their relationship.
"It is kind of funny," David says. "We never really thought that my mother and Stan got along swimmingly in their past. To see them together is a little odd, but it's also heartwarming. My sister has taken to calling them 'oldieweds.'
"We are thrilled. It has made us really, really happy. We're seeing our parents, who had known each other all these years, together and happy and being affectionate toward each other."
Andrea agrees it's a little odd, but is thankful they have each other. "Seeing someone that you know and that you've known your whole adult life and have so many memories with, it's a grounding force for both of them," she says. "They are adorable, and seeing them holding hands, hugging, and kissing is warming to all of us."