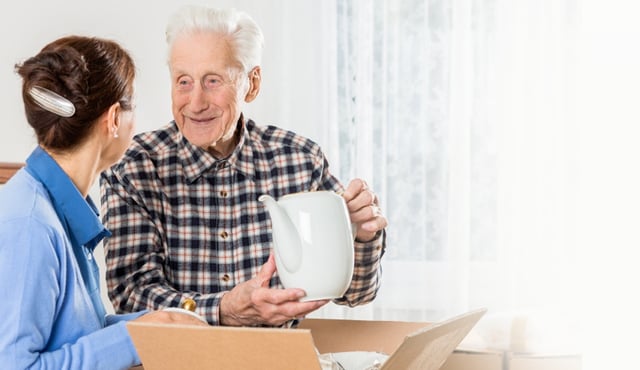 The move to a senior living community - whether for yourself, aging parents, or another loved one – can be easier and less stressful than many think. The key is taking as much time as possible to plan the transition, giving you time to make the right choices and ease into accepting the new life changes.
Planning the Move
There are a number of factors to consider when planning the move to a senior living community. Of course, these will vary based on your individual circumstances. But here are some of the key aspects to planning a successful and stress-free transition.
Most moves involve downsizing, which means sorting what to keep, what to donate, and what to pass on to other family members. Making these decisions can be challenging, especially when it involves items that hold sentimental value. It's important to honor those feelings — both yours and your parents' — and to be patient with the process.
If you or your loved one's home is being sold, it will need to be ready for showings. If you have the time and energy to do that yourself, or to get help from family members, that's great. But if you're pressed for time or just not that handy, consider hiring a cleaning service and/or a local handyman service to help with these tasks. Doing so can free up your time and energy so that you can focus on your parent's needs during this time.
There are several ways to move out of a house, from the total "do-it-yourself" approach to a full-service mover that will pack, load, transport, and unload. The biggest difference in these options is financial cost. It is also important to consider the cost of physical and emotional stress either option will place on you and your parent. Families sometimes choose a middle ground, such as doing the packing and even loading, while leaving the move and unloading to professionals.
Easing Into the New Community


Once your move is made, be sure to introduce yourself and your family to key members of the community. That includes any service and care personnel, as well as other residents. Keeping channels of communication open is key.
Be social when partaking in meals to meet the other residents living in your community. A meal is much more than good food, it's also about the people you share that time with. You will likely be interacting with other residents on a daily basis – get to know them.
Also, try to participate in a variety of the activities offered at the community to learn which you enjoy. Communities frequently have art-based activities, outings, or intergenerational programs which could spur your interest and help you get involved.
In no time your new residence will feel like home!