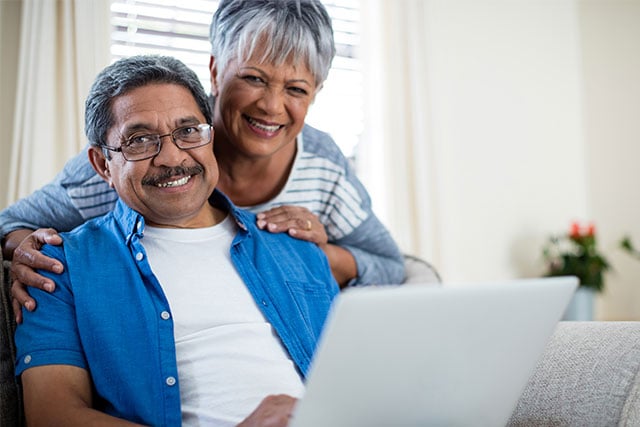 Visiting with dad this Father's Day will be different for many of us this year as we observe guidelines for social distancing. Just because we may not be able to physically be with dad, doesn't mean that we can't spend time together using video to enjoy a virtual Father's Day.

More people today understand, and appreciate, the benefits of technology like video conferencing as a way to communicate with those we care about. Through mobile phones, tablets, laptops or desktop computers, even self-proclaimed "non-techie" types are finding ways to be together face-to-face.
This Father's Day, spend the day or even just a short visit with your dad. If you're looking for activities during your time together, here are a few ways you can enjoy time with your father without risking health and safety.
Long-Distance Dinnertime
Order a favorite meal to yourself and your father's home to share dinnertime, and include a Father's Day card for a personal touch. Schedule a time for dinner when you can both participate in a video call and catch up over a meal. You can even invite the whole family and catch up on current events while breaking bread with dad. Cleanup will be a breeze and he's sure to appreciate the company.
Walk Down Memory Lane
For many people, there's nothing like a stroll down memory lane and with screen sharing capabilities you can access your photos online and share them with dad. If you have time in advance, put together a slideshow and you can rekindle your favorite moments of the last year or even a lifetime. This is a wonderful way to connect and show your father how he has touched your, and perhaps your children's lives.
How to Create a Family History Questionnaire
Organize a Family Reunion
Is there more than one dad in your extended family? During the pandemic, families have come together through video conferencing like never before. Virtual family gatherings can keep you in touch with not only your dad, but perhaps your grandpa, or an uncle.
As people become busier and busier, getting an entire family together in person is extremely difficult. But through video, seeing your entire family in one place is simple. Keep in mind that video chat could be technologically overwhelming for some, so if you are concerned your dad might become confused, you may want to stick to a small group.
Watch a Show or Performance Together
If your dad has a favorite movie, or perhaps there's a show your family watched together every year, order the movie online and share your screen with him through a service like Discord or Google Meet. With a headset and microphone, you'll be able to watch together and even have conversations at times during the show, just as if you were together.
Take in a Concert
With live performances out of the question, many musicians have adapted to the crisis by streaming concerts. There are multiple opportunities to take in a live-streamed music performance every weekend. If you're on a video call with your dad, visit one of the live streaming music websites and share your screen. From the Metropolitan Opera to Bruce Springsteen, you and your father can enjoy live music like never before.
Play a Game
Whether it's backgammon, chess or checkers, there are a number of ways to continue playing some of dad's favorite games - virtually. Set up a video chat and play by video, or use the digital game's online modes to go head-to-head on the same board. You can make this a focal part of your visit or simply something that you enjoy during your time together.
This Father's Day may be a little different than years past, but that doesn't mean you and dad can't spend time together. All of these activities can be enjoyed one-on-one, and as a family. Find a time to get together and make this Father's Day one to remember. We wish all the dads out there a Happy Father's Day!