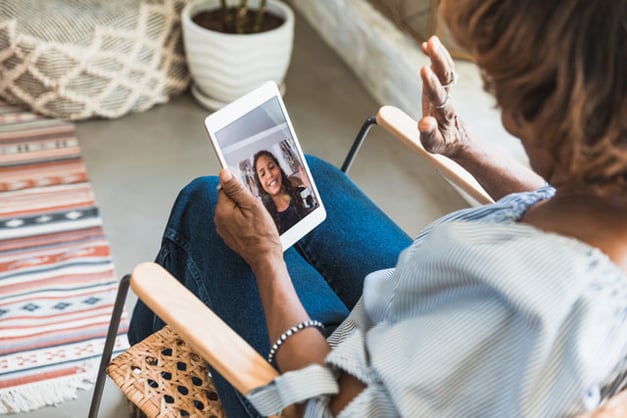 The coronavirus disease 2019 (COVID-19) pandemic has created unique challenges for those who wish to spend time with loved ones who are residents in senior living communities. While meeting in person may not be allowed at this time, technology has helped bridge the social gap. Pamela C., life enrichment coordinator at The Peaks, A Senior Living Community in Flagstaff, AZ, managed by The Goodman Group, says that when utilized to their fullest, services like Facetime, Zoom, and Google Meet help residents connect with family and friends, and reduce feelings of isolation in a time when they need it the most.
But with that excitement can come fear, confusion, and frustration around new technology. Pamela says that "some residents don't understand the concept," which can lead to slow conversations and uncomfortable calls. Pamela says she's using these simple guidelines to help dozens of residents and their families make the most of their virtual moments.
Check Your Background and Atmosphere
You might not think about it, but the setting of your video call can color the entire interaction. "Atmosphere can do a lot for somebody's mood," Pamela says. For that reason, she likes to find a bright, open area – sometimes even outside, weather permitting – from which residents can take or host their call with their loved ones. Doing the same on your end can change the tone of an interaction for the positive, making the experience more uplifting and memorable for you both.
Plan Your Conversations
Depending on your loved one's ability to communicate, it's important to guide your conversation so it doesn't veer toward the negative. Pamela says you should "try to give them an idea of what's going on in the outside world" without being the bearer of bad news. Focus on a few moments of your day, week, or month that could brighten your loved one's day. Even simple, mundane events or happenings can be enough – the time with you is what your loved one values, so set a goal to keep the tone of the conversation as positive as possible.
Gather the Family Around the Camera
"It's one thing to talk to your children," Pamela says, "but there's a special relationship between grandparents and grandchildren that can really lift a resident's spirits." Getting your family together, pets included, when hopping on a video call, can ignite conversation and enliven the event for all involved. Pamela says she's seen residents go from pleased to beaming just because their family member brought a grandchild or family pet into the frame.
Send Something Special
Video might be the most efficient way to get in touch with a loved one in a senior living community during COVID-19, but it's not the only one. "Utilize other forms of communication," Pamela says. She encourages families to send letters, emails, voice recordings, and more to add variety to the experience. Consider creating two scrapbooks and sending one so you can open them together, send candy you can both enjoy on a video call, or even order matching meals you can enjoy with your loved one remotely.
Every single digital touchpoint you make with your loved one is an opportunity to brighten their day. Pamela says that even for those in memory care, your calls, video chats, and letters can provide an essential abatement to the loneliness they might be feeling.
"They may not remember the exact things you talked about or the things you did during that activity," she notes, "but they definitely remember how it felt."