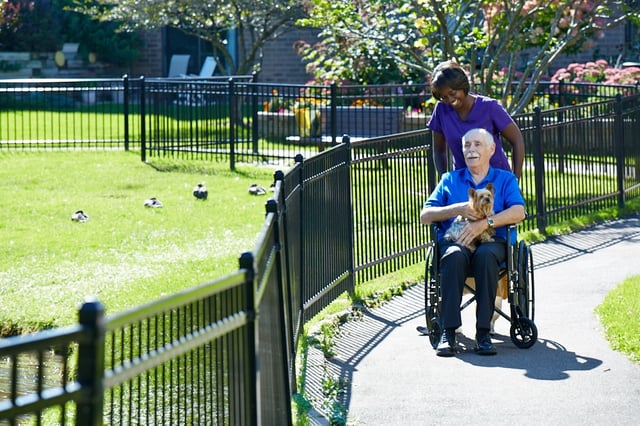 Aging in Place is all about choosing where and how we want to live as we age. Fundamental to that choice is that we should be able to live comfortably in one place even if our health and care needs change. The philosophy behind this approach is that we'll live a more fulfilled, active, engaged life once we're settled in a safe and secure home. So, is Aging in Place right for your or your loved one? Here are some of its many advantages.
Minimizing the Disruption of Moving
While moving into an Aging in Place community creates a long-term benefit, moving itself can feel overwhelming. This is especially true if you or your loved one are moving from a home of many years or even a lifetime. Still, Aging in Place means that your next move only takes place once, eliminating concerns about moving again the future, while fostering a deep sense of safety and security in your new home.
Easing the Transition to Different Levels of Care
With Aging in Place, there is no need for a resident to relocate in order to take advantage of additional care services. This applies to changing needs for day-to-day assistance as well as changing health care needs. Aging in Place can support a resident from independent living all the way through skilled nursing care, if needed.
Ensuring Safety
A senior living community can offer peace of mind for you or your loved one due to the high safety standards and security precautions taken within the community. Many communities offer controlled access to regulate who is visiting and have emergency response systems in place throughout the facility. All family members can rest easy knowing their loved one is safe.
Deciding if Aging in Place is Right For You
As with any life decision, making the right choice for yourself or a loved one takes some research and planning. You'll want to consider if and when a move is right for you. That includes deciding whether your current home can still serve your needs and for how long. If you've decided it's the right time to make a move to a senior community, take your time to consider all your options. Here are some resources to help you get started.