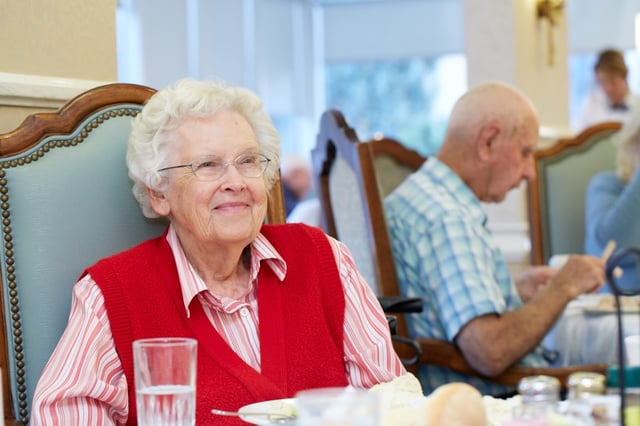 Perhaps you or a loved one is considering a move to a senior living community but don't quite know where to begin. If so, you're not alone. Making the move to a senior living community is a major decision, many times made by the entire family. The Goodman Group realizes that the amount of information out there can be overwhelming. We want to help you understand what to expect from an assisted living community, so you can make the decision that is best for your family.
What Is An Assisted Living Community?
An assisted living community provides support services such as meals, medical supervision and medication management, personal care, transportation, and much more.
Most assisted living communities provide basic medical monitoring as well as daily activities and care. Activities of daily living can include dressing, eating, mobility, hygiene, bathing, toileting, using the telephone and shopping. Some communities have exercise areas and offer personal development programs.
An assisted living community may be a good choice if you or your loved one needs more personal care services than you can get at home or at an independent living retirement community, but you don't need the 24/7 medical care and supervision of a health care community.
Is Assisted Living Right for Me?
If you have experienced increased difficulty with everyday activities, such as showering, dressing, and running errands, then an assisted living community may be the answer.
You can get the daily support you need while remaining as independent as possible. Some further questions to ask include:
Do you need more help than family and friends are able to provide? Are you tired of maintaining your own home?
Are the activities of daily living becoming stressful or overwhelming?
Do you feel lonely or isolated at home? Would you like or do you need more social interaction.
Do you worry for your safety? Are you concerned about your mobility or potential for falls or accidents at home?
Is transportation an issue? Assisted living communities offer transportation and assistance getting to where you need to go, such as doctor visits and appointments.
Having an active social life is vital to health and happiness, so senior living communities managed by The Goodman Group offer a wide range of social and recreational activities, and provide the opportunity to make new friends.
How Do I Transition to Assisted Living?
Making the decision to leave your home can be difficult, but by taking the time to find the right fit and being honest about your needs and concerns, a move to a community can help improve overall wellbeing.
Here are things you can do to make the transition easier:
Begin cleaning out unwanted items. Avoid last minute packing.
Do your homework on the community. Study up before moving in and make sure your questions are answered ahead of time.
Once moved in, explore the community and meet the residents, participate in activities, and go easy on yourself.
Everyone adjusts to change differently, so if it's taking time to adjust, speak with your family, the senior care community move-in coordinator (or any other staff member), or a trusted friend.
Questions to Ask Before Choosing an Assisted Living Community
What is the lifestyle like in an assisted living community?
Wherever I live, would I like to have involvement with friends and socialize?
What activities do I want to engage in?
Am I healthy and mobile now, or do I anticipate needing help in the near future?
Do I still want to drive and also have the convenience of local transportation provided?
What is my financial situation?
Would I like assistance with daily tasks and activities to add an additional element of convenience to my life?
Am I receiving all of the benefits to which I'm entitled, such as Social Security, Medicare, Veterans' Benefits, etc.?
You may have many other questions — or you may have already considered the implications of the move to an assisted living community and are ready to make your decision. What matters most is that you and your family are satisfied with this lifestyle change, and that it enhances your overall wellbeing.