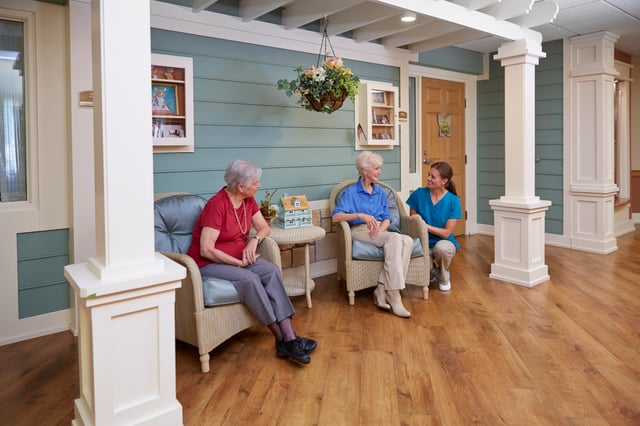 Memories may fade, but that doesn't mean life has to lose its meaning. There may be a day when you may have to take on a new role in your relationship with your parents as the caregiver. As foreign as this new responsibility may feel, it's a wonderful opportunity to ensure their life story takes on new, beautiful meaning.
When a loved one experiences Alzheimer's disease or another form of dementia, this can bring unique challenges. It is important to understand that they can still enjoy a fulfilling life in an environment that nurtures and cherishes their wellbeing.
In our more than 50 years of experience, we have learned that quality of life can always be achieved. Memory loss is no different. We have not only seen, but experienced first-hand, the extraordinary ways in which memory care can provide comfort to loved ones and their families.
This blog will give you a chance to learn a little bit more about memory care and the ways it can benefit your loved one and your family as a whole.
What Is Memory Care?
Memory care communities can greatly vary. Quality environments should be designed to recognize the value of each individual and help residents live dignified, well-rounded lives. These long-term care environments must feel comfortable, safe, and secure in order to adequately care for your loved one.
Basic qualities of memory care include:
Skilled nurses with special training for memory care
Increased supervision to ensure safety
Special programs to provide structure and activity
Look for a community that focuses on your loved one's individual strengths and promotes opportunities for their growth.
Person-Centered Care
We understand that atmosphere is incredibly important for those with Alzheimer's or dementia. Living spaces should provide structure and routine while allowing flexibility to meet individual needs. Ongoing support is given to our residents and their families, which assists everyone during all stages of the transition process and through the progression of their diagnosis.
We assist you, your family, or responsible party to develop a personalized plan of care that identifies the resident's care needs. The Care Plan is updated to reflect changes in the resident's current needs.
It is important to recognize that new interests can still be developed, enjoyed, and appreciated. Each individual's interests, needs and abilities are respected. For example, at the Villa at Terracina Grand memory care community in Naples, Florida, activities are adapted so residents can experience continued successes. Villa at Terracina Grand is one of the few memory care communities that regularly takes residents on outings outside the community. So, if you're interested in truly finding person-centered care, make sure to do your research!
With the right care, structure and inspiration, individuals facing Alzheimer's and dementia can achieve extraordinary results. Our caregivers work in memory care training and ongoing in-service continuing education to provide the safe, dignified, caring environment your loved one deserves.