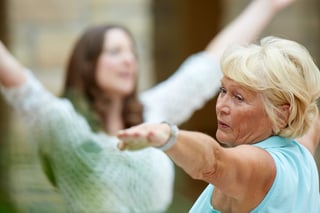 Physical fitness is an important part of a healthy lifestyle, especially as we age. Regular exercise can tone muscles, increase circulation, and even slow the effects of aging. Yet it can be challenging for older adults to find exercises that feel appropriate. That's why functional fitness is so exciting!
Functional fitness isn't about heavy lifting, it's about improving quality of life while encouraging physical activity. And it's a great way to have some fun!
What is FIT Functional Fitness®?
FIT Functional Fitness® exercises simulate common movements and focus on feeling well, living well, and having the best quality of life possible. It's a "do what you can" program that's meant to improve strength and flexibility; and maintains a balance, focusing on fall prevention and getting stronger every day.
Functional fitness is designed to help improve participants' core strength, balance, and cardiovascular health, as well as promote relaxation. Targeted exercises are designed to deliver the maximum benefit for each participant.
The goal is to increase overall health and well-being, reduce the potential for falls, and to encourage older adults to remain active. Where possible, functional fitness can even reduce the need for assisted mobility devices. According to the Centers for Disease Control and Prevention, frequent exercise can help relieve arthritis pain and lower the risk of type 2 diabetes.
How Does It Work?
The regular exercises of functional fitness focus on endurance, balance, core strength and multi-joint flexibility.
"Research shows that with regular exercise, many of the physiological changes related to aging can be prevented or postponed," says Katie Westberg, National Director of Life Enrichment at The Goodman Group.
"With functional fitness, the goal is to improve core strength to help reduce falls and injuries. We're seeing residents increase their mobility, endurance, and balance, and improve their range of motion, but the benefits go beyond those factors. They feel better, have more confidence, and it's a lot of fun, too! Participants can see long-lasting and significant strength training benefits within an 8 to 16-week period."
FIT Functional Fitness® Program
FIT Functional Fitness® incorporates four fitness programs, taking current health levels into consideration and allowing all seniors to participate, no matter their current functional fitness level, and it was developed in partnership with a board certified exercise physiologist. As participants' strength and endurance increases, they may choose to progress to the other programs offered:
FIT to be Strong® – The core of the FIT Functional Fitness

®

program, FIT to be Strong

®

incorporates strength building and balance exercises. Both use weights on the arms and legs.
FIT to Stretch® – Stretching exercises aimed at decreasing pain and improving range of motion, while promoting relaxation.
FIT to Pedal® – Endurance-based exercise where participants use a stationary peddler.
FIT to Balance® – A progressive program designed to enhance the time individuals spend on their feet, improving endurance and balance skills. Participants can work their way up to having more balance confidence, which equates to fewer falls and increased independence.
Functional fitness engages many muscles to promote healthy movement, while enhancing flexibility and strength. An example would be putting a heavy object back on a shelf, which requires calf strength, arm strength, and core balance.
Functional fitness helps seniors live more comfortably, as well as build strength and energy for daily activities. Functional fitness helps build strength and energy for daily activities.
Each FIT Functional Fitness® class is led by a trained Life Enrichment team member. The group classes are fun and interactive, allowing for social engagement and increased mental acuity.