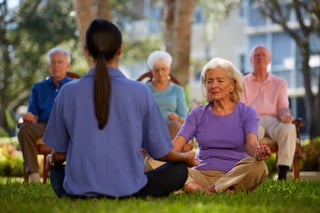 One way to measure your success in living independently is how well you can perform activities of daily living (ADLs). But just what are ADLs and why are they important? In essence, ADLs are the needs and activities that must be met to maintain a high quality of life. These independent living skills can range from the most basic to the more complex.
For example, basic ADLs include:
Bathing and grooming
Dressing
Physical movement (getting in and out of bed, moving from seated to standing, walking)
Taking medication
More complex ADLs include:
Shopping
Driving or taking public transportation
Engaging in hobbies and/or social activities
Managing personal finances
These are all familiar activities that we often take for granted. However, as we age, we may find that some activities become more difficult to handle on our own. For example, if we have a minor foot or ankle injury, we may need the temporary assistance of a cane while walking. Of course, that can happen at any age, but some things may need ongoing support — such as someone else driving us to the grocery store once a week, or helping us pay monthly bills. What's important is that we assess each of these needs as we age. It's important to recognize that our quality of life can remind high, even if we need assistance now and again.
You may have noticed that most of the ADLs involve movement. e've all heard the adage, "use it or lose it." One of the best ways to maintain independence is to stay physically fit!
Functional Fitness is Key
Functional fitness may help you to engage in ADLs with relative ease and comfort by improving:
Strength
Flexibility
Endurance
Balance
You can find functional fitness programs at most senior living communities, local gyms, YMCAs, and other fitness centers.
If you're new to more formal exercise, it may be a good idea to invest in a few private training sessions to get started. And always consult with your doctor before beginning a new program.

In the long run, you're likely to find exercising is fun and you'll be amazed at how quickly your ADLs will become easier, day by day.