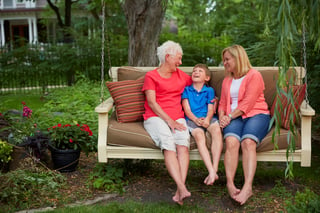 When important decisions must be made about a loved one's living situation, family matters. While your family may feel apprehensive about starting the conversation about moving a loved one into a senior living community, it can be a very positive process. Like many important conversations, it's important to be prepared. We've put together a few suggestions on both how to begin the conversation and keep it moving forward.
Plan Ahead and Be Timely
If this conversation is something you are currently considering, make a commitment to yourself [and your loved one] to follow through and have a discussion. Don't wait too long to bring it up.
Wendy Wells, the daughter of a resident at Terracina Grand in Naples, FL, said, "Waiting too long to have that conversation is probably the worst mistake you can make. Have it early when they can still tell you what they want. When they can pick the place. When they have their own opinions about what they want and what they're looking for -- talk about it then."

You'll probably find it helpful to approach the conversation after thoughtful preparation. We suggest carefully planning the best time and the setting to have it in. It may work best for you and your loved one to have the conversation over dinner, or perhaps during a walk, or another activity you enjoy together. This is rarely a one-time conversation, so be prepared to gently broach the subject the first time you bring it up. You can always plan for future discussions.
Be Prepared for an Emotional Conversation
Throughout the entire process, it is important to remain respectful of your loved one's thoughts and feelings. Actively listen to understand where they're currently at.
If they've lived in their current home for many years, it can be unsettling to think of moving. However, you can choose how to start the conversation as well as the topics you'd like to focus on. So keep it positive! Discuss the benefits of joining a senior living community such as meeting a new network of friends, living a more worry-free and enjoyable life, trying new hobbies, and discovering a refined sense of independence.
As mentioned, this isn't likely to be a single conversation. It is a good idea to allow time for emotions to settle between conversations if possible. We also encourage you to end your initial conversation with a reassuring statement like, "You know, this isn't something we need to decide today. Let's both think about things and talk again in a few days."
Emphasize the Many Options Available
Gone are the days of the stereotypical "nursing home." Today's senior living communities are dynamic and engaging. They provide a full range of activities, services, and medical care. As your conversations continue, it's a good idea to have researched the options available in your area. Have some brochures handy that profile various communities in your area. This will facilitate discussing the next step, which is to tour senior living communities with your loved one.