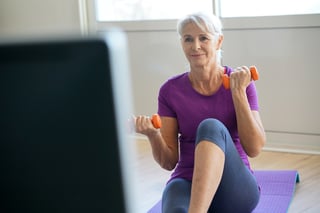 As we age, staying active is more important than ever. But with fluctuating weather, it may prove harder for your aging loved ones to fit exercise into their daily schedules. During the hot summer months, they may be unable to go for a walk outside due to high temperatures and threats of dehydration. In some areas, the same can be said of the colder winter months with the negative windchills and risks of ice.
Dee Leman, National Director of Physical and Occupational Therapy for The Goodman Group, understands these struggles and provides some easy tips on how to remain fit indoors during the colder and hotter months of the year.
Simple Exercises to do at Home
Staying fit doesn't have to mean venturing outside. Dee says there are several exercises you can try right at home.
She recommends walking around your house if it's too cold or hot outdoors. Stairs are even better. "Walking on a level surface will not get your heart rate up," she says. "But if you go up and down the stairs, even at a slow pace, it will give you that increased cardiovascular fitness."
She says many TV stations — PBS, for example — broadcast exercise programs geared toward seniors. There is also a vast selection of DVDs you can checkout from your local library or buy from the store.
Get smart about it. Apps like Daily Senior Fitness Exercise and Yoga Exercises for Seniors can guide you through simple movements to maintain flexibility and strength.
Take a Class at a Community Center
Community centers are great resources for affordable fitness classes that cater to all ages. Many centers will offer classes designed specifically for seniors to improve balance, muscle strength, flexibility and more.
Some community centers even have swimming pools which can be a great way to exercise.
"I love swimming because it is so good for your joints," Dee says. "You get really good cardiovascular exercise without your weight bearing on your bones."
But swimming doesn't help with bone density, she says. You'll want to complete some weight-bearing exercises to accomplish that. A stationary bike could help.
A Variety of Exercises is Your Best Bet
The key to maintaining good health year-round is to practice a variety of exercises. Try an aerobics DVD Monday, a yoga class Wednesday and walk around the neighborhood with a friend on Saturday.
Maintaining motivation is key. If you're concerned about staying committed to your workout regimen, find a fitness friend. "Friends that go exercise with you are very valuable," Dee says. It's more difficult to skip your workout if it means skipping your commitment with a friend. Plus, the added encouragement is always nice.