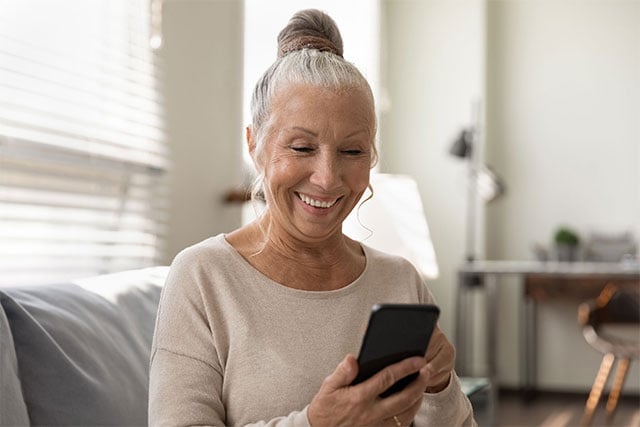 Keeping your mind active and stimulated is critical to maintaining a good quality of life. Research proves that cognitive activities, such as learning a second language, are effective in delaying the onset of diseases like Alzheimer's.
Many residents at communities managed by The Goodman Group enjoy taking part in Fit Minds, which is a program that includes everything from breathing exercises to puzzles to creative activities. Fit Minds was developed to help individuals stay mentally sharp at all stages of life.
Of course in our digital world, there's an app for that. Actually, there are a whole bunch of them.
Enjoying the Benefits of Brain Training Apps
Exercising your brain doesn't have to be hard. Here are some of the apps that many older people look forward to opening and interacting with every day.
1. Lumosity
Of all the apps on this list, Lumosity is probably the best known. It was one of the very first in the brain training app genre and leverages cognitive science in the development of its activities. After 14 years, it has amassed 100 million members. It is available both on iPhone and Android devices.
Lumosity boasts more than 50 different games designed to help people with memory, logic, language, and problem-solving. The variety keeps the app fresh, but you're limited to three free games a day. You can pay the subscription fee and play unlimited ($12/month or $60/year).
2. Staying Sharp
Staying Sharp is an optional member benefit for members of AARP (formerly the American Association of Retired People). It provides a comprehensive brain health assessment, interactive challenges, and a library of videos on important cognitive wellness topics such as mindfulness.
There is a free mode and a subscription option. If you do pay, there are almost unlimited options for games and exercises. Some users have shared that you don't get enough results unless you do subscribe. An annual subscription is $60.
3. CogniFit Brain Games
CogniFit purports to offer the benefits of brain training in as little as 10 minutes a day. It has been used by about 4.6 million people worldwide and provides the tools to create your own personalized cognitive health plan. Family accounts are available so seniors can be connected with their families while they may not be physically in the same space.
CogniFit has games designed to focus on these brain functions: memory, perception, reasoning, coordination, and attention. The games adapt with you, so they get harder as you get better at them. Some packages give you access to 20 games ($20/month or $120/year) and 60 games ($30/month or $170/year). CogniFit also offers mental assessments for $50.
4. PEAK
Described as "fun and motivational," Peak is a highly popular, dual-platform (Android and iPhone) app to craft a healthy daily routine for your brain. Focus, memory, problem-solving, and mental agility are just a few of the skill areas you can test and train. The "Pro" version offers more than 40 games in total. You can select subscriptions that are monthly ($5), every six months ($25), or year-long ($35). (Your brain is in pretty good shape if you did the math to figure out how much you save with the longer plans.)
5. Elevate
Last but not least, Elevate is an intuitive brain training app specialized in some areas seniors may want help with. It has one of the largest collections of brain training games of any app and adjusts to a user as they play. Writing, speaking, reading, math, and memory are some of the concentration areas. Elevate costs $5 to get and requires a $40/year subscription.